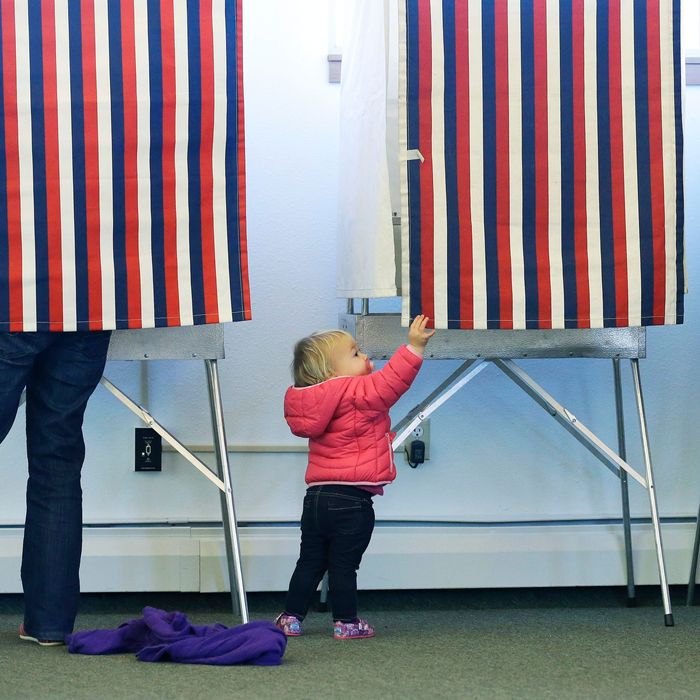 Photo: Ted S Warren/AP/Shutterstock
When I reach Adam Benforado on the phone, he's agonizing over whether his 9-year-old will make it through her sleepover without having to call home in the middle of the night. He immediately connects this feeling to our collective parenting mood three years post–school shutdown: "We feel like we need to sort of maximize the welfare of our children and make up for this horrible thing that happened to them, and all the isolation."
Benforado isn't just a beleaguered father; he's a legal scholar of children's rights at Drexel University and the author of a new book, A Minor Revolution , that offers a bracing, encyclopedically researched, surprisingly hopeful take on how we could get ourselves a better country by enshrining children's rights in the law. All we'd have to do is change who gets to vote, how legal proceedings work, and how we interpret statutes and regulations all the way up to the Constitution. Quixotic? Maybe, but the prize would be a better society for everyone, he says, and a clearer focus on tackling issues like poverty, climate change, and the woeful state of education.
Of course this is my beat, since I published a book, The Stolen Year, about children in the pandemic , but lately it really seems there's been a barrage of terrible news about kids. There's the shocking rebound of child labor , the quarter-million kids who are apparently missing from school buildings entirely , the teen mental-health crisis , as well as the anemic response to getting children affected by the pandemic and school closures the learning help they actually need. How could child rights address all this?
We're probably most familiar with children's rights in an area like child labor, and you write about the "child-savers" from a century ago. Why is this rollback happening now? roll back some of these protections exactly in those terms — that we have labor shortages because of the pandemic, so we need kids to work.
And that's because there is no free option when it comes to social problems — you either pay early on prevention or you pay late on rehabilitation or remediation. Either focus on preschools and good prenatal health care or triple bypasses and prisons.
This is very galvanizing! And it kind of leads into my next question. In the case of protecting a child from gun violence, which is spiking , it's easy to decide what a child's best interest is. But don't we also have this additional issue, which is how you determine what is in a child's best interests when they can't always participate in society or in civic engagement in the way that adults can?
Young people actually do have valuable ideas and perspectives on the world. What do you think the most pressing matters in society are? Well, climate change, gun violence, trans rights, how to regulate social media. Teens know so much about those things and are so concerned about those things. We see them at the forefront of the Parkland movement , the Black Lives Matter movement, the climate-change movement.
Do you really want children to vote, though? How young are we talking? The standard pushback that I get on something like lowering the voting age is that kids just don't have the capacity. That's belied by the data we have from psychology and social science. That when it comes to voting-relevant cognition, the average 16-year-old and the average adult really are indistinguishable. And we allow adults who have very significant cognitive impairments to vote.
You started out with a very arresting image, which is these horrible stories of these little children in immigration court. And that's sort of like a travesty of rights. How concretely should we, in a developmentally appropriate way, involve children in things like legal proceedings?
Yeah. I see what you mean.
I do want to talk about how adopting a child-first perspective could end up being politicized because that has happened throughout our history. Everybody loves to use children as their watchword. And can I get you to speak specifically to the noise that is being made over kids that are transitioning?
With respect to this battle over the treatment of trans kids, there are many things that are really upsetting and disturbing about it. The conversations about risks to children often aren't based on data but irrational beliefs and perceptions. How does this impact kids, and what do kids think? Whether it's about book banning or trans rights — how do they feel? What books do they want to read? How do they feel if they can't learn something? How do they feel about having someone on their swim team who is trans? When we listen to kids, we may learn things that are troubling to us, but I really think that they deserve to be a part of the conversation, and when they are, the path forward will be much clearer for all of us.
To me, the issue of children's rights really points up to the hollowness of American individualism because, I think, in the conservative point of view, if you're not upholding the parents' rights, then you are upholding the state. Because who is going to stand for the child other than various state apparatuses when the parents and children's interests are determined to be at odds?
I teach a course called the Rights of Children, and each year I ask my law students in this course to reflect on a moment in their childhood when they felt like their rights weren't respected. And every year I have kids who talk about divorce and separation procedures where their interests, beliefs, experiences were put to the side. The judge never considered them, or gave them lip service. So a kid who was 13, who is now 26 years old, who is still worked up about the fact that he was sent to be with his father but it was the wrong decision — his views were never taken into consideration.
I think we can all relate to that feeling of being unheard. So if I could sum up what you're saying, it's that in the interests of children, you're calling for changes not only to our policies but to our legal systems, and those changes would be great for people in general and basically our democracy as a whole. And if it's a big change, yes, it's a big change. It's radical. And that's what we need. This story has been edited for clarity and length.
| | | | | | | | | | | | | | | | | | | | | | | | | | | | | | |
| --- | --- | --- | --- | --- | --- | --- | --- | --- | --- | --- | --- | --- | --- | --- | --- | --- | --- | --- | --- | --- | --- | --- | --- | --- | --- | --- | --- | --- | --- |
| Rose Gold Tone Stainless Steel Crysals Encrusted on Bezel and Paired in Mother of Pearl Dial Women Watch5.0★ / check it now at Amazon | Pewter To Protect and Serve Police Officer Medal with Bald Eagle Key Chain, 2 Inch5.0★ / $9.88 | Jewelry Set for Little Girls, Kids, Toddlers, Children - Pink Bunny Stretch Necklace and Bracelet in Box check it now at Amazon | EDFORCE Men's Cross Pave Bling Ring w/ Bright CZ Stones on Top and Sides in Stainless Steel (249-0008-R)3.0★ / check it now at Amazon | EDFORCE Men's Pave Bling Ring with Bright CZ Stones on Top and Sides in Polished Stainless Steel (249-0012-R) check it now at Amazon | Jos Fauxtographee Realistic - An Ugly Adorable Pet Pug Dog Sitting on Blue and Brown Rug with Squares - Iron on Heat Transfers check it now at Amazon | To Protect and Serve/Police Officer by Jason Bullard 36"x12" Art Print Poster check it now at Amazon | Authentic Beautyhealth Forever Rest Luxury Massage Chair *body scan*(NOW W/HEAT ON BACK AND FEET)IN BEIGE CARAMEL check it now at Amazon | When and Where I Enter: The Impact of Black Women on Race and Sex in America$16.99 | Buy It 'N Try It: Hints on Cooking and Living in Japan (Third English Edition)$446.01 | Perspectives on Structure and Mechanism in Organic Chemistry check it now at Amazon | Dish on Food and Farming in Colonial America (Life in the American Colonies) check it now at Amazon | Before the Sun Has Set: Retribution in the Fiction of Flannery O'Connor (Studies on Themes and Motifs in Literature)$48.35 | Her Hidden Children: The Rise of Wicca And Paganism in America4.3★ / $38 | The World Treasury of Children's Literature : Book 1 and 2 in slipcase check it now at Amazon | The Millstone Industry: A Summary of Research on Quarries and Producers in the United States, Europe and Elsewhere$75 | Come and see: Reflections on values and caring in medicine$28.97 | Re-Engage: 6 Steps For Getting Your Life On Track And Headed In The Direction Of Your Happiness, Dreams & Destiny$19.95 | Data Mining and Predictive Analytics (Wiley Series on Methods and Applications in Data Mining)$89.96 | Reaching Standards and Beyond in Kindergarten: Nurturing Children′s Sense of Wonder and Joy in Learning check it now at Amazon | Play, Projects, and Preschool Standards: Nurturing Children′s Sense of Wonder and Joy in Learning check it now at Amazon | Every Inch a King: Comparative Studies on Kings and Kingship in the Ancient and Medieval Worlds (Rulers & Elites)$140.92 | Censoring History: Perspectives on Nationalism and War in the Twentieth Century (Asia and the Pacific)$46.95 | The Complete Worship Ministry Handbook: A Comprehensive Guide for Worshipping God and Serving in Worship Ministry$4.52 | Scope of Grace: Essays on Nature and Grace in Honor of Joseph Sittler$6 | Getting It Right: Notre Dame on Leadership and Judgment in Business$24.86 | The Cotton Kingdom: A Traveller's Observations On Cotton And Slavery In The American Slave States, 1853-1861$25.99 | The Junk Man's MBA: Lessons from my dad on living and working in times of rapid change$4.02 | The Skin That We Speak : Thoughts on Language and Culture in the Classroom by Delpit, Lisa published by New Pr (2003) check it now at Amazon | A Parent/Teacher Guide to Children's Books on Peace and Tolerance check it now at Amazon |
Should Children Vote, Sit on Juries, and Serve in Office? have 1813 words, post on nymag.com at March 18, 2023. This is cached page on USA Posts. If you want remove this page, please contact us.