Tiffany Justice, co-founder of Moms for Liberty, weighs in after the House passed the 'Parents Bill of Rights.'
The public and journalists often chastise Congress for passing "messaging" bills.
Here's more on a "messaging" bill.
The House or Senate know a bill doesn't stand much of a chance of becoming law. But the party in power wants to send "a message." Sometimes that message is directed to the base. A bill may declare "We hear you. We know you want us to pass this." The message is sometimes protective. Congress could face criticism for not acting on a given issue. So, the legislation serves as a fig leaf.
Speaking of messages, Congressional Republicans certainly got the message during the pandemic about public education. Online schooling for K-12 exposed what GOPers contend are deep flaws in public education. Parents grew agitated about what lessons they saw taught in the classroom – beamed through to the kitchen table. Some parents also grew upset at school closures, mask requirements and vaccines.
"After COVID, the veil has been lifted on a corrupted system that's been indoctrinating our children with racial division and hated. Parents are now awakened," charged Rep. Chip Roy, R-Tex.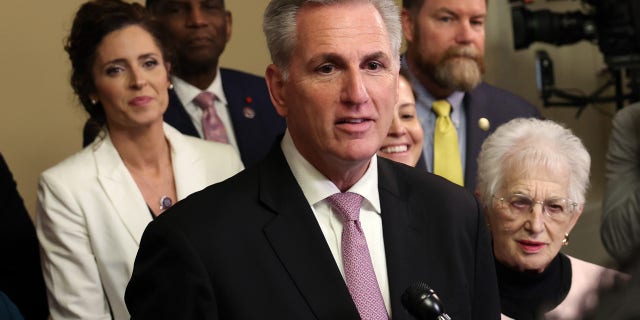 U.S. Speaker of the House Kevin McCarthy (R-CA), joined by fellow Republican lawmakers, holds a press conference at the U.S. Capitol on March 24, 2023, in Washington, DC. McCarthy spoke after the House passed the Parents Bill of Rights Act, 213-208, sending the bill to the Senate. (Kevin Dietsch/Getty Images)
Raucous school board meetings commanded headlines in 2021 and 2022. In fact, problems with public education boosted the re-election of Florida Gov. Ron DeSantis (R) and ushered Virginia Gov. Glenn Youngkin (R) to victory.
That's why House Republicans promised to develop a "parents bill of rights" in their "Pledge to America" campaign document before the 2022 midterms. Republicans know that education and the role of parents emerged as a wedge. The House approved the bill late last week. And even if the plan never becomes law, House Republicans can point to the legislation as making good on a key campaign promise – and sending a message.
MINNESOTA ATTORNEY WARNS ABOUT 'INSIDIOUS' BILL FOR 'TRANS REFUGE,' SAYS PARENTAL RIGHTS WILL BE STRIPPED
The bill requires school districts to post curriculum, offer at least two in-person meetings to parents each year, allow parents to speak at school board meetings, restrict what pronouns teachers may use to address students and publicize the book collection in the school library.
"The left is scared to death of parents having more of a say in their kids education," argued House Majority Leader Steve Scalise, R-La. "Why do we need a law to do what everybody thinks is the right thing to do?"
In response to the rambunctious school board meetings, the Justice Department issued a memo citing "a disturbing spike in harassment, intimidation and threats of violence against school administrators, board members, teachers and (school) staff." Republicans say the memo went too far, suggesting that the DoJ labeled parents "terrorists."
"I don't think the FBI or any of those organizations are targeting parents unduly," said Rep. Glenn Ivey, D-Md. "I did see a lot of threats that were made and I talked to some of the people in those offices. They feel personally threatened. Their families had been threatened. I think it's important for law enforcement to take a look at that."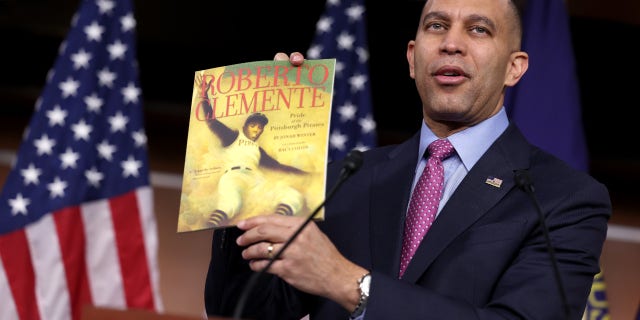 U.S. House Democratic Leader Hakeem Jeffries (D-NY) holds a copy of "Roberto Clemente" by Jonah Winter which was recently banned in public schools in Florida's Duval County, during a press conference at the U.S. Capitol on March 24, 2023, in Washington, DC. Jeffries spoke out against the recently passed Parents Bill of Rights Act and the banning and censorship of books in schools. (Kevin Dietsch/Getty Images)
But, as is often the case, books and what students are reading emerged as the biggest flashpoint in the parents bill of rights debate. Both sides converted the House floor into a virtual library, hauling in stacks of books as props to help make their case of what books were offensive – or were unfairly targeted for removal.
Rep. Ralph Norman, R-S.C. highlighted a book titled "Beyond Magenta." He said it was a book "on the LBGTQ youth." He also cited additional titles "The Book is Gay" and "Gender Queer."
"Parents, is this something you want your children to read?" asked Norman.
Democrats asserted that Republicans were only targeting certain types of books.
"'The Life of Rosa Parks.' "Who is Sojourner Truth?' 'The Biography of Nelson Mandela.' 'The Story of Harvey Milk," recited Rep. Jim McGovern, D-Mass., the top Democrat on the Rules Committee, holding up each tome. "Do you notice any pattern here? They want to ban books about Black and brown people and LGBTQ+ people. It's sick. It is hateful."
Democrats said that Republicans were only catering to certain parents.
"When they talk about a parents bill of rights, they're talking about a specific demographic of parents," said Rep. Jamaal Bowman, D-N.Y. "Those books are an attack on Black or brown students."
Rep. Alexandria Ocasio-Cortez, D-N.Y., suggested that Republicans tried to attack "marginalized communities" in "the flowery language of 'parental rights'"
"I can say what my progressive value is. And that is freedom over fascism," said Ocasio-Cortez.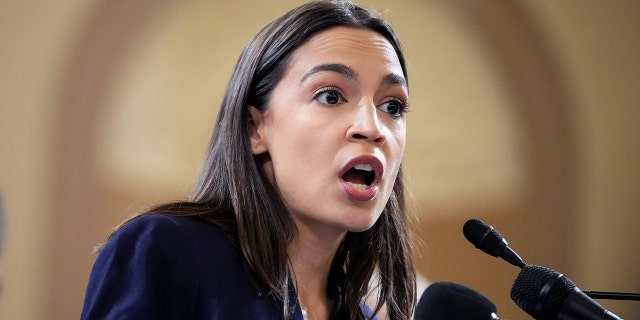 Rep. Alexandria Ocasio-Cortez (D-N.Y.) speaks during a news conference on Capitol Hill (Photo by Drew Angerer/Getty Images)
Ironically, Republicans railed against the federal government's role in local education. Many GOPers campaigned for years about abolishing the Department of Education. Some lawmakers – from both sides, incidentally – found it a little rich that Republicans now wanted to dictate education policy from Capitol Hill.
"This legislation is nothing more than an attempt to nationalize our education system," said Rep. Mary Gay Scanlon, D-Penn.
When challenged about handing down national requirements, House Speaker Kevin McCarthy, R-Calif ., insisted that Congress wasn't infusing itself into local policies.
"This has nothing about Washington," said McCarthy. "This says the parent can now know what's being taught in the school."
The House approved the parents bill of rights measure 213-208. All Democrats voted nay.
"This bill should have passed unanimously. But unfortunately some Members are more concerned with appeasing teachers unions and radical activists in their party rather than standing with parents," said House Majority Whip Tom Emmer, R-Minn.
'PARENTAL RIGHTS FOR WHOM?' WAPO COLUMNIST ATTACKS 'RABBLE-ROUSING' PARENTS OVER SCHOOL ISSUES
But Emmer, who is in charge of garnering GOP votes for bills, failed to secure unanimity on his side of the aisle.
But overall, Republicans stuck together to approve a key tenet of their legislative agenda.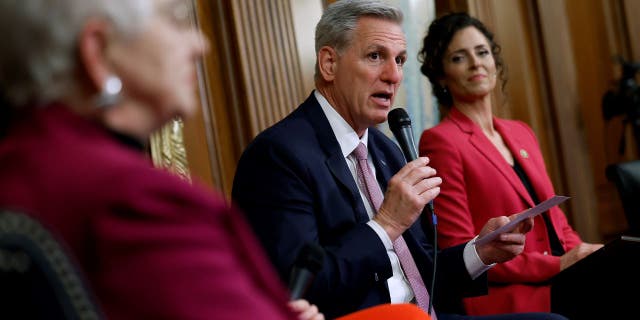 Speaker of the House Kevin McCarthy (R-CA) delivers remarks during an event to introduce the Parents Bill of Rights Act with Rep. Virginia Foxx (R-Va.) (L) and Rep. Julia Letlow (R-La.) in the Rayburn Room at the U.S. Capitol on March 01, 2023, in Washington, DC. According to the Speaker's office, "the Parents Bill of Rights was designed to empower parents and ensure that they are able to be involved in their kids' education."
This brings us back to "messaging."
The House approved the package. But it meets a blockade across the Capitol Rotunda.
"The House Republican school control bill is Orwellian to the core and it will not see the light of day here in the Senate," said Senate Majority Leader Chuck Schumer, D-N.Y.
Republicans made good on their campaign promise. But it's dead in the water.
CLICK HERE TO GET THE FOX NEWS APP
This is emblematic of legislation which may move through the House and Senate this Congress. The narrow divides make it unlikely either body will advance much of anything to President Biden's desk.
That means you may not get a lot of laws over the next two years.
But everyone gets "the message."
Chad Pergram currently serves as a senior congressional correspondent for FOX News Channel (FNC). He joined the network in September 2007 and is based out of Washington, D.C.
| | | | | | | | | | | | | | | | | | | | | | | | | | | | | | |
| --- | --- | --- | --- | --- | --- | --- | --- | --- | --- | --- | --- | --- | --- | --- | --- | --- | --- | --- | --- | --- | --- | --- | --- | --- | --- | --- | --- | --- | --- |
| Send a Message$3.45 | Authentic Models Send a Message in a Bottle Kit kit check it now at Amazon | A-Ha - Stretch Bracelet "... Times When You Have Seen Only 1 Set of Footprints ..."$9.99 | BOWS RACKS AND DEER TRACKS THATS WHAT LITTLE BOYS ARE MADE OF VINYL WALL DECAL KIDS ROOM HUNTING OUTDOORS check it now at Amazon | Bead Retreat Sending a Message Bracelet Kit Love$14.57 | Blue Sends a Message (Blue Clues)$4.99 | Sue Your Bank: How to Fight Back with Little or No Money, Make Sense of Your H.A.M.P. Nightmare, & Take Back Your Life!$9.95 | Disney's Robin Hood Sends A Message (Disney's Wonderful World of Reading) check it now at Amazon | A guide to religious corporations (Guide no. 1 of the law and religion study series) check it now at Amazon | LOST EXAMPLES OF COLONIAL ARCHITECTURE BUILDINGS THAT HAVE DISSAPEARED OR BEEN check it now at Amazon | Lost Examples of Colonial Architecture: Buildings That Have Disappeared Or Been So Altered as to Be Denatured check it now at Amazon | Besides the Bible: 100 Books that Have, Should, or Will Create Christian Culture$13.38 | Am I a Man or a Woman?: Why some people feel that they are in the wrong body3.0★ / $5.97 | How To Become A BUSINESS TO BUSINESS DEBT NEGOTIATOR: In as Little as 7 Days..With Little or No Capital..Thrive in Any Economy$12.95 | You're Nothing but a Number - Why achieving great credit scores should be on your list of wealth building strategies$4.24 | How to start a business with little or no cash5.0★ / $24 | When You Know That You Know That You Know! Or, The Redemption of Benjamin Ashton: Stories from South Africa$7.4 | Tibet's Great Yogi Milarepa: A Biography from the Tibetan being the Jetsun-Kahbum or Biographical History of Jetsun-Milarepa$36.29 | How To Make Big Money Starting A Business: Five Businesses That Can Generate Over $250,000 With Little Or No Investment$20.99 | Make Mine a Double: Why Women Like Us Like to Drink (Or Not)$19.71 | A Positive New You: Empowering Affirmations That Assist You in Taking Control of Your Life check it now at Amazon | Send a Message to Mickey: The ABC's of Making Your Voice Heard at Disney$10.9 | Why Did I Do That? How to Beat the Cycle of Insecurity and Jealousy in Your Relationship (Dating Advice For Women Book 2)$2.99 | God's Way of Sending A Mail Order Husband: Abby, William, And The Little Man check it now at Amazon | If it's Raining Men, Why is Your Bucket Empty?: How to Improve Your Chances of Finding a Lasting Relationship$4.14 | I Send A Message$1.29 | Send A Message To My Heart (With Patty Loveless)$1.29 | Send A Message To My Heart$1.29 | Send A Message To My Heart (2006 Remastered Version) check it now at Amazon | Red Line Reflective License Plate - Both Lines Personalized - Send a Message to Seller Upon Checkout with Your Information$29.99 |
Sending a message: Why Congress passes bills that have little or no chance of becoming law have 1964 words, post on www.foxnews.com at March 27, 2023. This is cached page on USA Posts. If you want remove this page, please contact us.