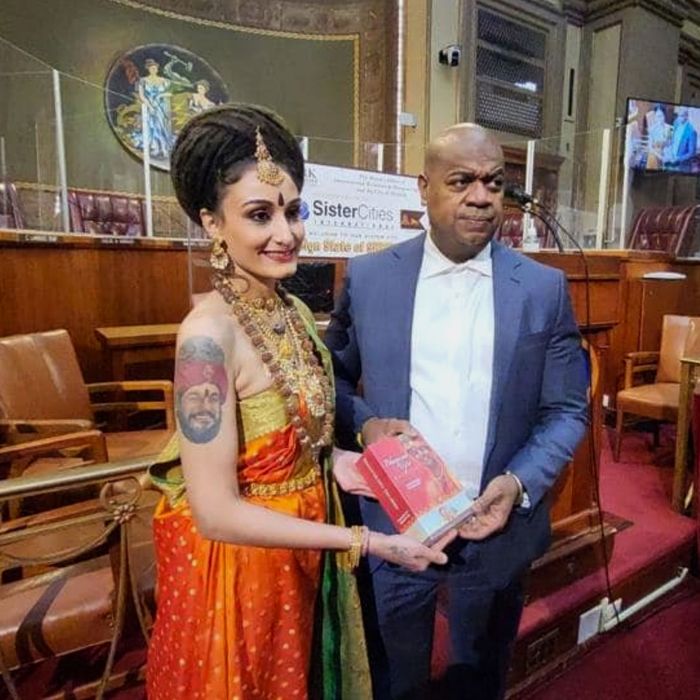 Photo: @SriNithyananda/Twitter
On January 12, Newark mayor Ras Baraka appeared before cameras in City Hall for a signing ceremony to establish a new sister city. In front of a banner extending a "special welcome" to the Sovereign State of Shrikailasa, he said he hoped a cultural exchange between Newark and Shrikailasa would help improve "the lives of everybody in both places."
The only problem is that Shrikailasa isn't a place at all. It is neither a city nor a country but the name of the "great cosmic borderless" nation for a group known as Kailasa. They follow the Hindu swami Nithyananda, who claims to be the living embodiment of Shiva. Over the past two decades, he has amassed thousands of followers and claims to have "extended campuses" in 150 countries, where adherents practice meditation, yoga, and a form of Hinduism centered around their leader's miraculous powers — which include his claims that he has delayed the sunrise and can teach cattle to speak Tamil .
As Newark residents have pointed out , none of this is all that hard to find: In November, a former Kailasa member even appeared on Dr. Phil , describing the group as a "cult" that required members to recruit people into thousand-dollar programs. Six days after Baraka signed the symbolic agreement, Newark dissolved the sister-city partnership, describing it as "groundless and void." The rupture went unnoticed until March, when the blog TAPinto Newark published a story on the embarrassment. Fox News and The Daily Show soon ran segments on the ordeal, and Newark took the hit for falling for the plan.
But New Jersey's largest city is far from alone. For close to 20 years, Kailasa has been scamming local, state, and national governments into signing sister-city programs and other unofficial proclamations. The past two years have been particularly active, including a letter of support from Canadian prime minister Justin Trudeau for Kailasa's Hindu Heritage Month celebration, a certificate of special recognition from California Representative Norma Torres, and a "Kailasa's SPH Nithyananda Day" in Richmond, Virginia. Earlier this month, its representatives spoke at two meetings at a United Nations conference in Geneva — though the gatherings were open to the public and the U.N. said it would ignore their comments . Even after the sister-city program was exposed in the U.S., it continued elsewhere: On March 14, the group signed a cultural agreement with Freetown, the capital and largest city of Sierra Leone. "Kailasa and its representatives have not deceived anyone, nor are we fake," a spokesperson said in a video as the sister-city story gained attention.
At this point, close to 30 U.S. cities have signed some sort of acknowledgement of Kailasa. The plan, in a basic sense, relies on the fact that most cities and government entities are pretty liberal in handing out proclamations, and Kailasa happily promotes its victories on social media. In 2021, the mayor of Fall River, Massachusetts, signed a proclamation establishing a Kailasa Day on January 3, 2022 — with text of the letter written largely by the group itself. "More often than not, requests are accommodated," said Elaina Pevide, a spokesperson for the mayor's office. "We probably do one to two dozen a month."
Pevide explained that the list of prior signatures — as well as the Trudeau letter — helped make the group seem legitimate. It was only when Kailasa followed up to request a sister-city program that Fall River shut it down. "We should probably not be getting a sister-city request from a place we have no relationship with," Pevide said, noting that the program is usually reserved for cities that share some sort of cultural tie. "I think the words 'virtual city' were a red flag as well," she added. As Kailasa's sister-city attempts gained attention this month, Fall River's mayor said it was "my fault" for not being more vigilant.
Indian police escort Nithyananda after a court hearing in Bangalore in 2012.
Photo: Manjunath Kiran/AFP/GettyImages
The experience of Fall River suggests that the letters are meant to build a more legitimate reputation for Kailasa, which has taken significant blows in recent years thanks to the alleged behavior of its leader. In 2010, a follower living in Michigan said Nithyananda raped her on multiple occasions over a five-year period during which they traveled between the United States and India. More women came forward alleging sexual abuse, and in 2013 a purported nondisclosure agreement leaked barring signees from discussing the "learning and practice of ancient tantric secrets associated with male and female ecstasy." In 2018, the allegation filed by the Michigan woman resulted in a rape charge in Indian court. The next year, Indian police said he fled the country amid an investigation into an alleged kidnapping at one of his ashrams, where 9 and 10 year olds were reportedly forced to work.
Nithyananda has denied all wrongdoing, saying in 2019 that "no stupid court can prosecute me for revealing the truth." The same year he fled India, reports suggested Kailasa purchased an island off the coast of Ecuador to better establish a nation, but the group now denies that claim, and his current whereabouts are unknown. Journalists who have covered the story believe he may be holed up in a country friendly to Hindu practices like Nepal.
While on the lam, Nithyananda continues to preach online as his followers build out a network of nonprofits within the U.S. and discuss how to build a central bank. The group appears determined to grow despite the legal threats facing its leader, though the number of actual followers remains unclear. In a Wednesday livestream in which Nithyananda told the audience how to realize their New Year's resolutions, a little over 2,000 people were watching.
| | | | | | | | | | | | | | | | | | | | | | | | | | | | | | |
| --- | --- | --- | --- | --- | --- | --- | --- | --- | --- | --- | --- | --- | --- | --- | --- | --- | --- | --- | --- | --- | --- | --- | --- | --- | --- | --- | --- | --- | --- |
| Heading Home, Giclee Print of Watercolor Snow Scene with a Cross Country Skiier Making His Way Across a Hillside, 15 X 19 Inches$29 | My Organic Life: How a Pioneering Chef Helped Shape the Way We Eat Today check it now at Amazon | The United States Of Craft Beer: A Guide to the Best Craft Breweries Across America$28.45 | John Muir and the Ice That Started a Fire: How A Visionary And The Glaciers Of Alaska Changed America$20.61 | Hidden Gospels: How the Search for Jesus Lost Its Way check it now at Amazon | A March for Honor: How a Small Indiana Town and its Team Helped Save Hoosier Hysteria (Fan Series of Sports Books)$8.1 | Freedom Run: A 100-Day, 3,452-Mile Journey Across America to Benefit Wounded Veterans$13.53 | The Maine Conspiracy: How a State Colluded And Abused Its Power to Prevent Low Cost Healthcare check it now at Amazon | Inside Your Therapist's Mind: How A Psychotherapist Thinks, and Why It Works$12.99 | THE CULTURE OF DEBT: How a Once-Proud Society Mortgaged Its Future$25.24 | Mother Mirror: How a Generation of Women Is Changing Motherhood in America$61.54 | Four Wheels West: A Wyoming Number Book (Count Your Way Across the USA) (America by the Numbers)$17.95 | The Cafeteria Lady Eats Her Way Across America: And Lives to Tell About It! check it now at Amazon | Rabbit Trail: How a Former Playboy Bunny Found Her Way check it now at Amazon | How to Get on Radio Talk Shows All Across America w/o Leaving Home$16.95 | The Denny's Story: How a Company in Crisis Resurrected Its Good Name and Reputation check it now at Amazon | Fiat Money Inflation in France: How a first world nation destroyed its economy and led to the rise of Napoleon Bonaparte$4.95 | Thirteen and a Day: The Bar and Bat Mitzvah Across America check it now at Amazon | Inside Your Therapist's Mind: How A Therapist Thinks, And Why It Works check it now at Amazon | How to Enjoy Christmas in a World that Has Lost its Way check it now at Amazon | Crushing It in Apartments and Commercial Real Estate: How a Small Investor Can Make It Big$17.99 | Justice in Plain Sight: How a Small-Town Newspaper and Its Unlikely Lawyer Opened America's Courtrooms$15.96 | The Assault on America: How to Defend Our Nation Before It's Too Late!$19.99 | How the Word Is Passed: A Reckoning with the History of Slavery Across America$22.99 | The United States of Craft Beer, Updated Edition: A Guide to the Best Craft Breweries Across America$11 | Our 50-State Border Crisis: How the Mexican Border Fuels the Drug Epidemic Across America$17.99 | Death at Kent State: How a Photograph Brought the Vietnam War Home to America (Captured History)$8.68 | Greetings from New Nashville: How a Sleepy Southern Town Became "It" City$9.99 | Hero Dogs: How a Pack of Rescues, Rejects, and Strays Became America's Greatest Disaster-Search Partners$31.25 | How a City Learned to Improve Its Schools (Continuous Improvement in Education Series)$41 |
How a Fake Hindu Nation Scammed Its Way Across America have 1598 words, post on nymag.com at March 23, 2023. This is cached page on USA Posts. If you want remove this page, please contact us.