Defense attorney Mark Geragos on the latest from the Gwyneth Paltrow case over an alleged skiing hit-and-run
Stephen Owens, Gwyneth Paltrow's lawyer, reconciled with his courtroom actions on the third day of trial in the negligence suit brought upon by Terry Sanderson against the Academy Award winner.
Sanderson, a retired optometrist, originally sued Paltrow for $3.1 million and claimed he was a victim of a hit-and-run on the slopes at the Deer Valley Resort in 2016. A judge dismissed the claim and removed the exclusive resort and a ski instructor from the lawsuit before Sanderson proceeded with the $300,000 suit. Paltrow filed a countersuit seeking $1 and attorney's fees.
Polly Grasham, Sanderson's daughter, took the stand Thursday to testify on behalf of her father. After returning from a lunch break and a heated cross-examination earlier in the morning, Owens told Grasham, "I need to apologize, I was being an a– earlier. You love your dad."
However, by the end of the cross-examination, Owens and Grasham were verbally sparring once again. He asked about Grasham's sister Jenny describing Sanderson as "anal-retentive," to which Grasham said, "I'm thinking that word came up with my older sister because I don't even know what anal-retentive means … if you're talking type A? I would not call him anal-retentive, no."
Owens attempted to clarify his words by saying, "it has nothing to do with our butts." Grasham ended her testimony with, "Ya, let's move on."
DAUGHTER OF GWYNETH PALTROW ACCUSER RECALLS MOMENT SHE KNEW SOMETHING WAS 'TERRIBLY WRONG' AFTER SKI COLLISION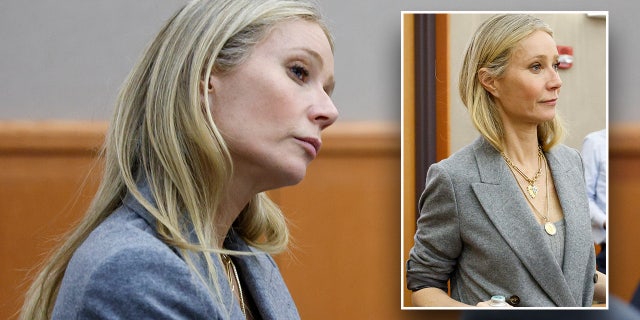 Gwyneth Paltrow arrives for third day of ski collision trial in Park City, Utah. (Jeff Swinger)
She was shown a picture her dad posted of a mountain guide who had helped her dad down the slopes after the incident where Sanderson claimed Paltrow crashed into him and caused "permanent traumatic brain injury" in addition to four broken ribs.
The "Iron Man" actress has maintained that Sanderson actually skied into her, and claims she stuck around until given the OK to leave by a ski instructor.
GWYNETH PALTROW SKI COLLISION TRIAL: LEGAL EXPERTS ANALYZE IF CELEBRITY STATUS MADE HER A TARGET
Grasham said the photo seemed "familiar" and liked that her father was "an articulate human" for sharing some insight into the crash with his online friends.
When asked about the email circulated by Sanderson to his daughters on the day of the collision, Owens read, "Here's what happened from my friend and eyewitness … headline I'm famous" with a link to a meetup group Sanderson had used for the ski outing.
"I think I wasn't able to access that information," Grasham said. "I don't recall what it was, in my memory it was a dead end. I do not recall what this link was."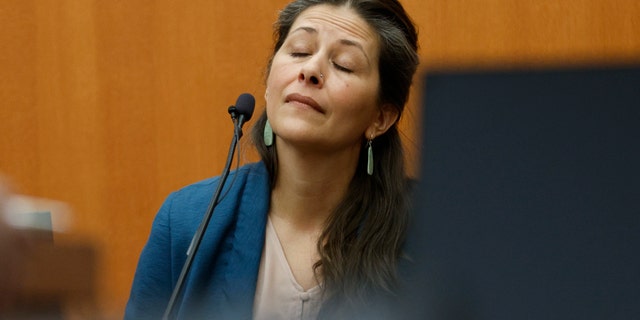 Polly Grasham, Terry Sanderson's daughter, took the stand Thursday. (Jeff Swinger)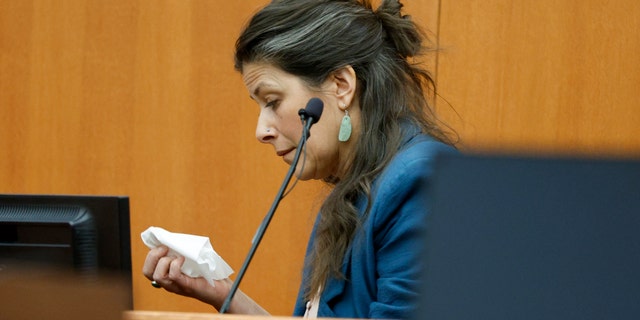 Polly Grasham reacted to questioning by Gwyneth Paltrow's legal team in court during testimony. (Jeff Swinger)
Sanderson accused Paltrow of crashing into him while skiing, an accident which left him with a "permanent traumatic brain injury, 4 broken ribs, pain, suffering, loss of enjoyment of life," along with emotional distress and disfigurement, according to the lawsuit obtained by Fox News Digital.
When asked if her father had any prior mental health issues, Grasham said, "I never knew my dad to have an anger management problem."
GWYNETH PALTROW'S SKI ACCIDENT ACCUSER 'OBSESSED' OVER FEELING 'ABANDONED ON THE SLOPE': STAR'S LAWYER
Grasham realized something was "terribly wrong" with her father more than one year after the collision in Park City, Utah. "His processing speeds," she said, were slower and "the effort that it took, definitely when we were in person… I felt like, wow."
"I almost expected drool to be coming out of his mouth because he was not engaged with anyone and had taken himself to a remote corner," Grasham added.
She told Sanderson's attorney Bob Sykes, "I think that his brain injury, he really does become consumed with things, and I feel like righting this wrong for him has really kind of consumed him. He wanted to make it right. He wanted someone to at least apologize or acknowledge or be held accountable for their decision on that date."
Paltrow was expected to take the stand on Friday, but it is unclear if time restraints will allow her to testify tomorrow. In addition, Paltrow's attorney said the jury will hear from her husband Brad Falchuk and her kids, Moses, 16, and Apple, 18.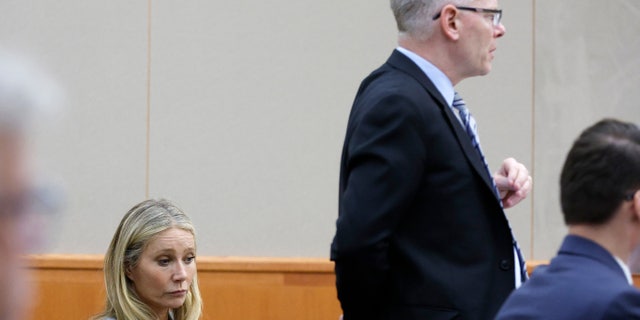 Gwyneth Paltrow sits in court next to her lawyer, Steve Owens. (Jeff Swinger)
Dr. Richard Boehme, who specializes in neurophysiology, testified "it was nearly impossible that Terry Sanderson hit Ms. Paltrow to cause this ski crash."
In his pre-recorded video testimony, Boehme recalled one clinical interview with Sanderson and reviewing all of his previous medical documents related to the ski accident.
"He has ongoing post concussive symptoms," Boehme said. "He sustained a concussion and that came from the close head trauma from the ski accident. His head struck the ground."
Boehme added that it was a "very short time" between impact and neither of their skis came off.
CLICK HERE TO SIGN UP FOR THE ENTERTAINMENT NEWSLETTER
"From a physics standpoint, Terry's injuries would not have occurred if he had hit Ms. Paltrow and skied between her skis, for example," he said.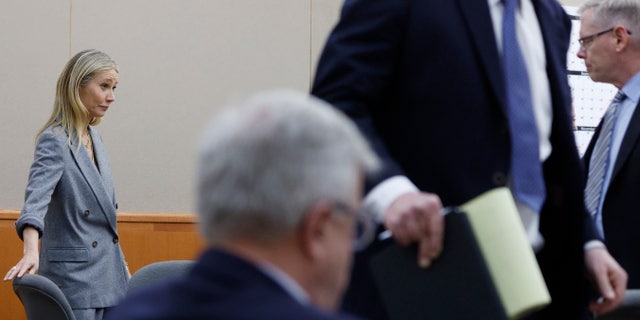 Gwyneth Paltrow stretches her legs in court during an objection by her attorney during her trial. (Jeff Swinger)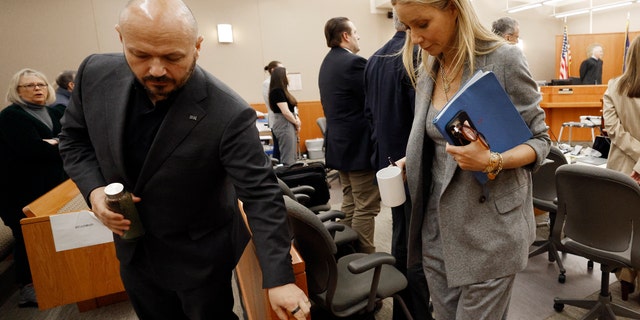 Gwyneth Paltrow heard testimony Thursday from doctors claiming Terry Sanderson had permanent brain damage from 2016 ski collision. (Jeff Swinger)
"The mere fact of him just striking her, that's not enough energy being transferred from the ribs to result in a rib fracture, and neither is Ms. Paltrow striking Terry from behind. It's the actual landing on the ground that resulted in the rib fracture."
The jury also saw Paltrow's lawyer, James Egan, and the plaintiff's expert witness, Dr. Alina Fong, get into a heated exchange over her credibility.
GWYNETH PALTROW'S LAWYER CALLS OUT PHOTOGRAPHERS; EXPERT CLAIMS PLAINTIFF'S PERSONALITY CHANGED AFTER ACCIDENT
Egan pushed to understand why Fong had not examined Sanderson's prior medical history when treating him during a neuropsychologist "boot camp" in 2017.
"Is it not possible that Mr. Sanderson had a concussion , his concussion symptoms resolved, and then he's continued to have other problems that you treated him for that were not concussion-related?" Egan asked. "Is that not possible?"
"I mean, anything is possible, but it's not probable because I think you are completely ignoring the fact that he had these prior issues which makes him more fragile and significantly more at risk for these issues," the doctor responded.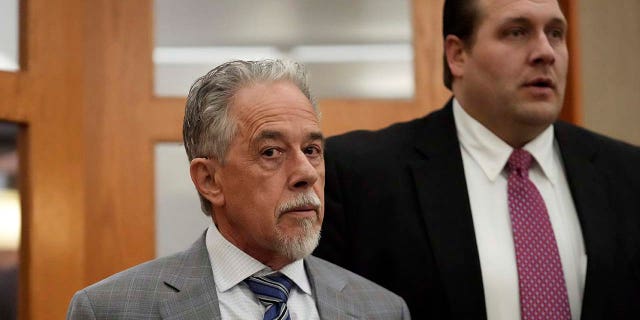 Terry Sanderson, left, arrives at court Tuesday, March 21, 2023, in Park City, Utah. The retired optometrist is suing actor Gwyneth Paltrow over a 2016 ski collision that took place at Deer Valley Resort. (Rick Bowmer)
Fong also accused Egan of "miscategorizing" her.
"I didn't treat Terry any differently than any other patient that comes into my clinic ," Fong said. "I take the patients as they come."
Paltrow tried to lighten the heavy mood in the morning when her private security team attempted to bring in treats for the bailiffs, but Sanderson's legal team objected.
"Thank you, but no, thank you," Judge Kent Holmberg said. "If the parties decide to do that later, it'll be fine."
Sanderson is expected to testify on Friday in addition to his daughter Shae Hareth and Mark Hareth. Gwyneth may also testify Friday.
CLICK HERE TO GET THE FOX NEWS APP
Fox News Digital's Lauryn Overhultz contributed to this report.
Tracy Wright is an entertainment writer for Fox News Digital. Send story tips to [email protected].
| | | | | | | | | | | | | | | | | | | | | | | | | | | | | | |
| --- | --- | --- | --- | --- | --- | --- | --- | --- | --- | --- | --- | --- | --- | --- | --- | --- | --- | --- | --- | --- | --- | --- | --- | --- | --- | --- | --- | --- | --- |
| Ryan's Daughter [ Blu-Ray, Reg.A/B/C Import - Spain ] check it now at Amazon | Thomas The Tank Engine and Friends - It's Great to Be an Engine4.1★ / $15 | Bob's Favorite Adventures/It's Great To Be An Engine$12.99 | Thomas The Tank Engine and Friends - It's Great to Be an Engine (with Toy)3.5★ / $16.77 | Little Music Note Play-A-Song: Thomas & Friends It's Great to Be an Engine$2.82 | THOMAS & FRIENDS: It's Great To Be An Engine - Musical Sound Book! check it now at Amazon | Thomas The Tank Engine and Friends - It's Great to Be an Engine [VHS]$9.98 | Thomas The Tank Engine and Friends - It's Great to Be an Engine (with Toy) [VHS]$15.41 | Thomas & Friends: It's Great To Be An Engine$9.99 | Rashi's Daughters, Book I: Joheved: A Novel of Love and the Talmud in Medieval France$17 | The Hero's Guide to Being an Outlaw check it now at Amazon | DreamMoods.com: What's In Your Dream? - An A to Z Dream Dictionary$19.98 | Martha Stewart's Encyclopedia of Crafts: An A-to-Z Guide with Detailed Instructions and Endless Inspiration$19.25 | Life Can Be Hard Sometimes, But It's Going to Be Okay: A Collection of Poems (Self-Help)$1.29 | It's Nice To Be Nice...A transformational approach to peace, balance, and harmony$12.99 | Rashi's Daughters, Book III: Rachel: A Novel of Love and the Talmud in Medieval France check it now at Amazon | Rashi's Daughters, Book II: Miriam: A Novel of Love and the Talmud in Medieval France check it now at Amazon | Rav Hisda's Daughter, Book I: Apprentice: A Novel of Love, the Talmud, and Sorcery$9.08 | Hitchhiker's Guide to Elvis: An A-Z of the Elvis Universe by Acclaimed Author Mick Farren$7.25 | Sixty Questions Every Jehovah's Witness Should Be Asked: A Penetrating Examination of the Errors and Evils of the Watchtower$33.32 | Sargent's Daughters: The Biography of a Painting$29.95 | It's Tough to Be Gentle: A Dragon's Tale$9.99 | Thomas & Friends It's Great to Be an Engine Song Book$14.24 | Brewer's Rogues, Villains, & Eccentrics: An A-Z of Roguish Britons Through the Ages$18.19 | The ABC's of Classroom Management: An A-Z Sampler for Designing Your Learning Community check it now at Amazon | It's Great to Be Grateful!: A Kid's Guide to Being Thankful! (Elf-Help Books for Kids)$6.53 | The Simplicity Project: Win Your Battle With Chaos & Clutter So You Can Live a Life of Peace & Purpose$14.99 | It's Ok to Be an Mk: What's It Like to Be a Missionary Kid$8.46 | Life, Lies, and Sex: A User's Guide to Being in a Body check it now at Amazon | Don't Be An A.S.S. All Your Life: Uncovering The Unconscious Mistakes You Make In Relationships$10.99 |
Gwyneth Paltrow's ski crash lawyer battles with plaintiff's daughter, regrets 'being an a--' during trial have 1882 words, post on www.foxnews.com at March 23, 2023. This is cached page on USA Posts. If you want remove this page, please contact us.