Artur Pawlowski says "they're so terrified of the truth" on "The Ingraham Angle"
A Canadian pastor is facing his final trial after three years of repeated fines, arrests and imprisonment for keeping his church open during the COVID-19 pandemic.
Artur Pawlowski, pastor of the Cave of Adullam congregation in Calgary, said he is accused of causing $400 million worth of damages for officiating a church service during the trucker blockade at the U.S.-Canada border last year.
"This is the final culmination of over 40 tickets for the COVID tyranny, the house arrest, the prison, all of that stuff," Pawlowski told Fox News Digital ahead of his trial, set to begin Thursday, Feb. 2, in Lethbridge, Alberta.
Pawlowski, the first Canadian clergyman to be ticketed for alleged COVID-19 violations, claims the charges against him are an attempt to criminalize his speech.
"It's crazy stuff," he said.
He also slammed Alberta's new premier, Danielle Smith, who he said discussed his potential amnesty last fall but has since "backpedaled."
CANADIAN PASTOR WHO WAS JAILED FOR 51 DAYS AFTER SPEAKING TO TRUCKER CONVOY ALLEGES MISTREATMENT IN PRISON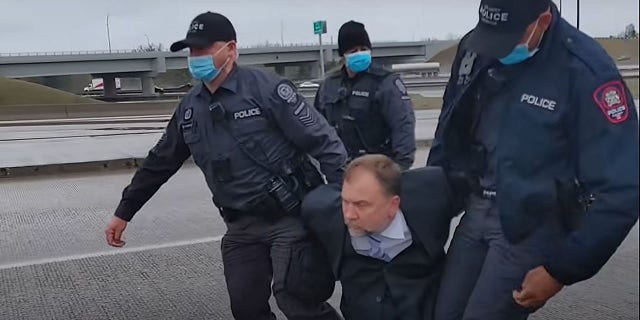 Pastor Artur Pawlowski is arrested by Calgary police in the middle of a highway on his way home from church on May 8, 2021. (Artur Pawlowski)
Pawlowski, who also heads a charity to feed Calgary's homeless, faces up to 10 years in prison if convicted on the charges stemming from his participation in the trucker convoy in Coutts, Alberta.
He is charged with mischief over $5,000, contravention of the Critical Infrastructure Defense Act and failure to comply with his release condition to keep the peace and be of good behavior.
'I will not obey'
Pawlowski first drew international attention in April 2021 when he threw armed police and a health official out of his church as they attempted to inspect it for public health compliance during an Easter service.
He was seen in a viral video chasing authorities out while likening them to the Nazi Gestapo. When officials returned three weeks later with a court order that empowered them "to do anything necessary" to enter his church and arrest him, Pawlowski recorded himself throwing them out again and warned his viewers that Canada increasingly resembles the communist regime his family endured in Poland.
CANADIAN PASTOR ARRESTED ON TARMAC OVER COVID RULES SAYS POLICE CONFISCATED LUGGAGE, SNOOPED LAPTOP
Calgary police arrested the pastor five times after he continued to conduct services in defiance of the court order, including once in the middle of a busy highway on his way home from church. On another occasion, he was arrested on the tarmac of Calgary International Airport following a speaking tour in the U.S.
Pawlowski told Fox News Digital at the time that authorities appeared to have rummaged through his luggage at the airport and snooped in his laptop.
After multiple court appearances, a federal judge mandated in October 2021 that he recite a script publicly denouncing his own opinions on COVID-19 and vaccines.
CANADIAN PASTOR DEFIANT AS JUDGE ORDERS HIM TO PARROT 'MEDICAL EXPERTS' FROM PULPIT: 'I WILL NOT OBEY'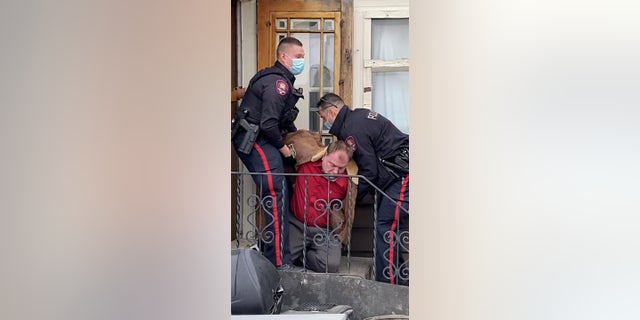 Pastor Artur Pawlowski is arrested at his home on Feb. 7, 2022, days after he spoke to truckers protesting vaccine mandates along the U.S.-Canada border. (Artur Pawlowski)
"I said, 'I will not obey this court order,'" Pawlowski said at the time, before the order was stayed upon appeal . "I refuse to obey a crooked judge's order. He's not a judge, he's a political activist."
When truckers in Coutts protested vaccine mandates by blocking the crossing along Alberta's border with Montana last February, Pawlowski was invited to deliver a 20-minute speech in which he urged them to "hold the line" against the government without resorting to violence. He also warned them against traveling to the provincial capital of Edmonton, fearing they would face a government crackdown similar to what happened to truckers who had protested in Ottawa.
CANADIAN PROTESTER'S TRUCK SEIZED, BANK ACCOUNTS FROZEN OVER CONNECTION TO FREEDOM CONVOY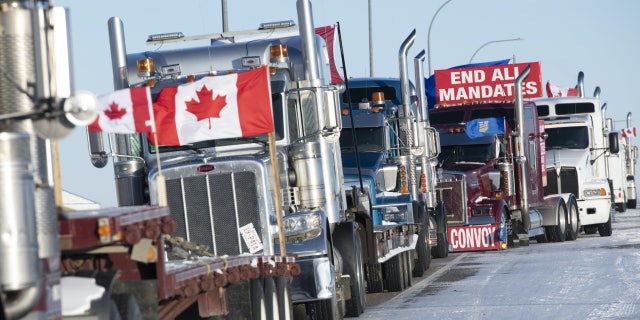 Lines of trucks block the U.S.-Canada border during a demonstration in Coutts, Alberta, on Feb. 2, 2022, a day before Pastor Artur Pawlowski delivered a speech that landed him in prison. (Bloomberg via Getty Images)
Days after his speech, he was arrested at his home and spent 51 days in two different prisons, where he claimed authorities abused him by locking him in a small cage, placing him in a psychiatric ward and trying to instigate other inmates to hurt him. The inmates refused and some reached out to him for spiritual guidance, he said.
'The same villains'
Pawlowski told Fox News Digital that he has been under house arrest since his release from prison last April and cannot leave his home without the permission of his probation officer. He ran for political office and became the leader of the Alberta Independence Party last September.
Smith, who was sworn in as premier on Oct. 11, was the first Canadian leader to apologize for the treatment of unvaccinated people in the country. Canada's government mandated vaccinations in federally regulated workplaces, issued travel restrictions, ordered months-long business shutdowns and arrested citizens who violated the lockdowns.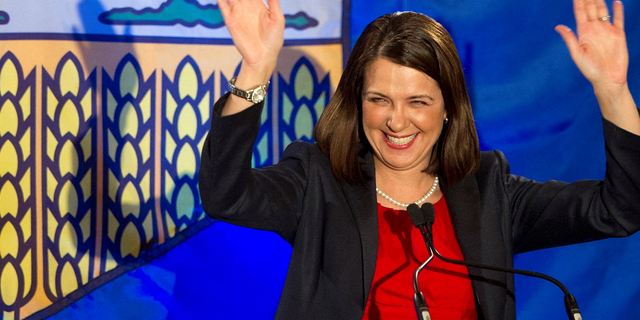 Alberta Premier Danielle Smith floated a proposal to pardon COVID-19 offenders in the province, a promise Pastor Artur Pawlowski argued she has failed to fulfill. (Reuters / Mike Sturk / File)
The country's treatment of the clergy drew the eyes of some American neighbors. Sen. Josh Hawley, R-Mo., urged the U.S. Commission on International Religious Freedom in 2021 to consider adding Canada to its watch list after a Baptist minister in Calgary was arrested when a police helicopter reportedly found his church gathering outside.
The Ohio State Legislature passed a resolution urging the same last March, and thousands protested at Canadian consulates throughout the U.S. during Pawlowski's imprisonment.
RESOLUTION INTRODUCED IN OHIO STATE LEGISLATURE URGES CANADA TO BE PLACED ON RELIGIOUS LIBERTY WATCH LIST
During a speech at the United Conservative Party's (UCP) annual general meeting last fall, Smith noted that the multiple pastors who were arrested in the generally conservative province ​​"come to top of mind" when she thinks of people who were unfairly penalized for disobeying COVID protocols. She also floated a plan to pardon such offenders.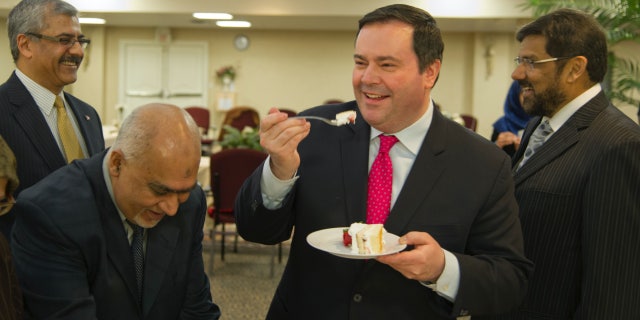 Former Alberta Premier Jason Kenney was caught with members of his cabinet violating their own COVID rules 24 different ways during one dinner in 2021. (Keith Beaty / Contributor via Getty Images / File)
But Pawlowski said nothing materialized in his case. He blamed that on members of Smith's cabinet, who he said fear for their own reputations after being involved in his prosecution under Smith's predecessor, Jason Kenney.
"I think the biggest problem is that she appointed the same villains in her cabinet," Pawlowski said, noting that some of the same cabinet ministers who were caught violating their own COVID-19 rules during a private dinner in 2021 remain in place.
"She's extremely weak," Pawlowski said of the new premier, whom he claims to have known for 15 years since they were both in Alberta's Wildrose Party. "Remember, you're dealing with a flip-flopping politician who crosses the floors, abandons people, promises one thing and changes her mind."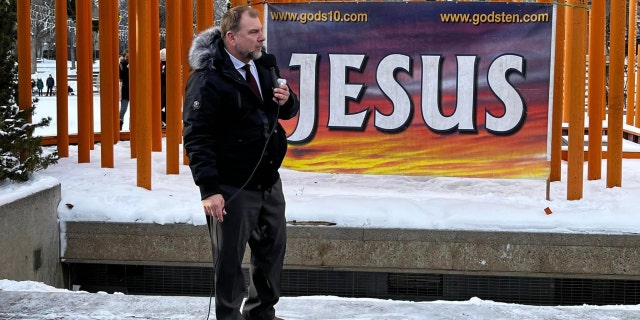 Pastor Artur Pawlowski preaches in downtown Calgary, Alberta. (Artur Pawlowski)
"I know her and she wants to please everyone, and she doesn't stand for anything," Pawlowski added. He alleged that representatives from the UCP came to his home multiple times to offer him a deal not to run for office or to abandon his political party, but he refused.
"I'm a pastor," Pawlowski said. "I'm not Judas Iscariot, I'm not the Whore of Babylon. I don't betray the people. So, I said no, and then [Smith] came out in public and she says, 'Well, I'm not bringing amnesty.'"
Citing the upcoming trial, a spokesperson for the Alberta government declined Fox News Digital's request for comment in response to Pawlowski's claims.
'Refining fire'
Pawlowski likened his ordeals to "a refining fire" that he said has widened the reach of his ministry and invigorated his faith .
"I noticed, even in my own preaching, that everything we went through — and are still going through — only gave us a stronger faith and zeal and confirmation that everything that we read in the Bible is actually the truth," he said.
Pawlowski said many of the Canadians involved with his ministry continue to suffer the lingering consequences of their government's pandemic response, which he claims has damaged the Canadian economy and forced many he personally knows to take vaccines.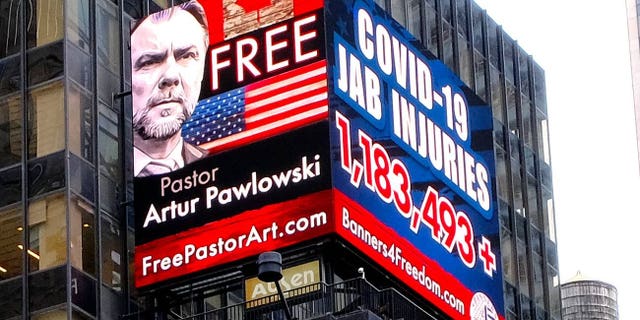 A sign in Times Square calls for the freedom of Pastor Artur Pawlowski in March 2022 while he was being imprisoned in Alberta after speaking to the trucker convoy. (Firebrand Action and Media)
He says there was an inconsistent application of COVID-19 protocols in the country that were intended "to remove or to destroy the middle class."
CLICK HERE TO GET THE FOX NEWS APP
"That's why the IKEAs and Walmarts were open, but small businesses were commanded to be closed," he said. "I could bring my entire church and half of my community to IKEA during the biggest lockdowns, where 500 people were allowed. But I could not have a church service with 100 people."
Jon Brown is a writer for Fox News Digital. Story tips can be sent to [email protected]
| | | | | | | | | | | | | | | | | | | | | | | | | | | | | | |
| --- | --- | --- | --- | --- | --- | --- | --- | --- | --- | --- | --- | --- | --- | --- | --- | --- | --- | --- | --- | --- | --- | --- | --- | --- | --- | --- | --- | --- | --- |
| The P.S. Collection by Arjang and Co. Women's PS-4004S-RD "Love Repeat" Enamel Over Mother of Pearl Dial Red Leather Strap Watch3.0★ / check it now at Amazon | A Day in the Budwig Diet - Learn the complete home healing protocol to prevent and heal cancer, arthritis, heart disease & more4.5★ / check it now at Amazon | FREECELL HANDHELD, Over 1000 games to play, Extra Large Playing Buttons, The ultimate Full Color Card Game2.0★ / check it now at Amazon | 8-Foot Professional Beer Pong Table w/ Holes - Over 30 Graphics to Choose From check it now at Amazon | Cold Steel B625QSP Quiver Guard Slips Over Blowgun Tube To Keep Your Hand From$7.83 | Uniden UIP160P voice-over-Internet Protocol (VoIP) telephone, Packet check it now at Amazon | WS-POE-5v-kit 5 volt power extension for PoE Foscam or any 5 volt camera, via Power over Ethernet, up to 328 ft. check it now at Amazon | VONETS VAR11N-300 Mini Multi-Functional Wireless Portable Wifi Router/ Wifi Bridge/ Wifi Repeater 300Mbps 802.11n Protocol$25.98 | Theo&Cleo 25 ft USB Active Repeater 2.0 A Male to A Female Extension Cable Lead 25Ft 7m check it now at Amazon | netTALK DUO II Voice Over Internet Protocol Telephone Device with 3 Month Service$25.99 | Esatap (Power Over Esata) Male to Usb-a Female / Esata Female Adapter check it now at Amazon | Over the Sea to Skye check it now at Amazon | Over The Sea To Skye - The Celtic Connection check it now at Amazon | Where Will You Go When Party's Over / Hard Not to4.5★ / $40.69 | Crossing Over: A Journey to the Light & Meditations on Death and Dying check it now at Amazon | Head Over Meals II to Assist You in Your Weight Control Program$19.34 | History Repeating - The String Quartet Tribute to Bad Religion check it now at Amazon | Head Over Meals I to Assist You in Beginning Your Weight Control Program$19.34 | Blitzkrieg Over You: Tribute to the Ramones$14.99 | Cooksharp Ceramic Peeler Stays Sharp for Over 10 Years to Peel a Potato, Apple, Carrot and More3.5★ / check it now at Amazon | Dundas Jafine PB50 Plastic Universal Pest Barricade Fits Over 3-Inch to 4-Inch Vent Caps, White check it now at Amazon | Black USB 1.1 Extension Cable over Cat5 up to 150-feet check it now at Amazon | Cupcakes Decorating Book -over 150 how-to cupcakes & treat designs for every occassion check it now at Amazon | Home Paperwork Filing System - Over 80 Files To Keep You Organized (various) (9"H x 12"W (each folder)) check it now at Amazon | Hidden IR Repeater System - Small and Easy to Install check it now at Amazon | Component Composite Video Digital Analog Audio + IR Repeater System Over CAT5 check it now at Amazon | VoIP Technologies: A Comprehensive Guide to Voice over Internet Protocol (VoIP) check it now at Amazon | The VoIP Handbook: The Complete Business guide to Implementing Voice over Internet Protocol check it now at Amazon | Over It: How to Face Life's Hurdles with Grit, Hustle, and Grace$12.99 | Ginger Fox The Chase TV Quiz Trivia Card Game - Over 120 Questions to Face Your Opponents & Outrun The Chaser$16.99 |
Canadian pastor repeatedly jailed over COVID protocols to face final trial: 'Crazy stuff' have 2244 words, post on www.foxnews.com at January 26, 2023. This is cached page on USA Posts. If you want remove this page, please contact us.