Libre Initiative engagement director Tina Aviles and former Border Patrol agent Mark J. Garcia react to the White House ditching terms like 'Latinx' before the midterms.
NEW
You can now listen to Fox News articles!
Hispanics are among the biggest victims of the Biden economy.
Runaway inflation acts as a painful regressive tax for those with lower incomes. The bad small-business climate hurts Latinos, who are far more likely to start businesses. Record gas prices squeeze hardworking commuters and entrepreneurs who drive from job to job. Green energy mandates have made it much more expensive to run air conditioners in hot Hispanic-heavy parts of the country. And the consequences of COVID-19 business restrictions still linger on Main Street.
"[A] case of chicken used to be like 40 bucks, now it's 120 and keeps going up and up," says Gerson Velasquez, owner of Half-Moon Bakery in Cleveland, whose empanadas are a community staple. "We're barely making enough to pay the employees and that's something that's a little scary." Antonio Urrianna, who runs a three-person landscaping business in Chicago, now spends $100 a day on gas for his truck and tools, making it harder to turn a profit. Hispanic employees are seeing their paychecks devoured by rising prices and healthcare premiums.
BETO O'ROURKE BLAMES BIDEN FOR MORE TEXAS LATINOS VOTING GOP: 'DIDN'T SPEND A DIME OR DAY' IN BORDER REGION
No wonder Latinos care more about the economy than social issues despite the media's best efforts to convince them otherwise. And no wonder they increasingly support Republicans, given the stark difference in the two parties' economic platforms and records.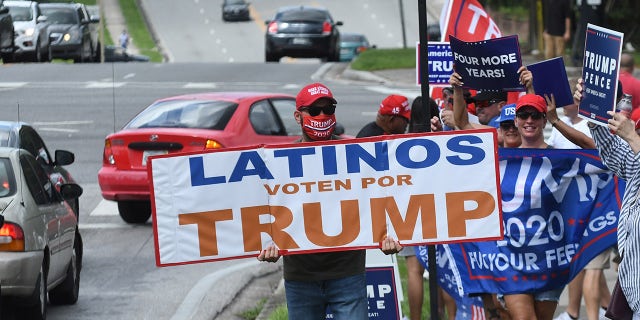 October 10, 2020 – Orlando, Florida, United States – People hold placards after U.S. Vice President Mike Pence addressed supporters at a Latinos for Trump campaign rally at Central Christian University on October 10, 2020, in Orlando, Florida. (Photo by Paul Hennessy/NurPhoto via Getty Images) (Photo by Paul Hennessy/NurPhoto via Getty Images)
Hispanics' economic pain is especially pronounced considering their remarkable financial success during the pre-pandemic Trump administration. Thanks to sound policies such as tax cuts and deregulation, Hispanics' real median income rose by 7.1% in 2019 versus 5.7% for whites. Their wages grew 24% faster than during President Barack Obama's second term.
A New York Times/Siena poll released recently finds that by a more than 2-to-1 margin, Hispanics say they are voting on economic issues rather than social ones, a significantly greater spread than among all voters. Another recent poll commissioned by the National Association of Latino Elected and Appointed Officials Educational Fund indicates inflation is by far Hispanics' top concern.
When the recession and historic inflation make putting food on your table, filling up your gas tank, and making rent payments an immediate concern, the January 6 show trials, democratically decided abortion policy, and climate change policies all of a sudden don't seem so important.
Hispanics are migrating to the GOP, whose pro-growth policies have proven to boost wages, help small businesses, and overcome inflation. President Donald Trump cut Democrats' outperformance among Hispanics from 42 points in 2016 to 26 points in 2020. The Times/Siena poll finds this gap has shrunk even further since then. On the issue of the economy and among Hispanic men younger than 45, the poll reveals Republicans are within the margin of error.
CLICK HERE TO GET THE OPINION NEWSLETTER
Many Hispanics also prioritize economic issues because they have first-hand (or second-hand from their parents) knowledge of socialism and the real-world consequences of Democrats' rosy collectivist rhetoric. The Times/Sienna poll finds that most Hispanics think Democrats have gone too far in promoting woke ideology.
Hispanics' economic focus suggests the GOP should double down on its pro-opportunity messaging and expand outreach to Hispanics, whom Pew Research finds are an overlooked political demographic. Republicans' economic agenda has already generated congressional victories in the heavily Hispanic areas of South Texas and South Florida. It can do the same in heavily Hispanic statewide races in Arizona and Nevada, which are likely needed to retake the Senate.
CLICK HERE TO GET THE FOX NEWS APP
Republican Rep. Maria Salazar from Miami lost her race in 2018 but rode Hispanics' increasing GOP support to victory in a 2020 rematch. She recently told the Wall Street Journal Hispanics "are mostly conservative, hardworking, God-fearing, law-abiding, [in favor of] paying low taxes and small government."
In other words, to quote President Ronald Reagan, "Latinos are Republican. They just don't know it yet." The GOP's success this cycle will depend in large part on how they can inform Hispanics that they can save them from President Joe Biden's bad economy.
CLICK HERE TO READ MORE FROM ALFREDO ORTIZ
Alfredo Ortiz is President and CEO of the Job Creators Network, a non-partisan organization founded by entrepreneurs.
| | | | | | | | | | | | | | | | | | | | | | | | | | | | | | |
| --- | --- | --- | --- | --- | --- | --- | --- | --- | --- | --- | --- | --- | --- | --- | --- | --- | --- | --- | --- | --- | --- | --- | --- | --- | --- | --- | --- | --- | --- |
| Iphone 6 case, JAHOLAN More Issues Than Vogue Quotes Clear Bumper Hard Plastic Case Silicone Skin Cover for Iphone 6 4.7 inch4.7★ / check it now at Amazon | Iphone 5c Case, JAHOLAN More Issues Than Vogue Quotes Clear Bumper Hard Plastic Case Silicone Skin Cover for Apple Iphone 5C2.3★ / check it now at Amazon | Iphone 4 case, JAHOLAN More Issues Than Vogue Clear Bumper Hard Plastic Case Silicone Skin Cover for iphone 4s 45.0★ / check it now at Amazon | Littlest Pet Shop Digital Pet Care for Me with More Than 30 Games and Activities Plus Clips for the On-the-Go Fun - PIG3.0★ / check it now at Amazon | PROTASIA-VS 4 oz. Skin and Wound Care (More Active Ingredients Than Vetericyn) check it now at Amazon | More Issues Than Vogue Coffee, Tea Mug check it now at Amazon | More Issues Than Vogue Coffee Mug. Ceramic Coffee Mug, 11 oz. Coffee Cup. Can be used as a Travel Mug. check it now at Amazon | More Issues Than Vogue Canvas Reusable Tote Bag check it now at Amazon | History on Trial: Culture Wars and the Teaching of the Past3.1★ / $17 | More About the USA: A Cultural Reader$1.34 | It Takes More Than Casual Fridays and Free Coffee: Building a Business Culture That Works for Everyone$25.6 | Irrationality in Health Care: What Behavioral Economics Reveals About What We Do and Why (Stanford Economics and Finance)4.7★ / $19 | Star Wars and Philosophy: More Powerful than You Can Possibly Imagine (Popular Culture and Philosophy)$15.19 | To Love, Honor, and Vacuum: When You Feel More Like a Maid Than a Wife and Mother$20.52 | Ancients against Moderns: Culture Wars and the Making of a Fin de Siecle check it now at Amazon | More About Software Requirements: Thorny Issues and Practical Advice (Developer Best Practices)$39.95 | Corporations Are Not People: Why They Have More Rights Than You Do and What You Can Do About It$10.98 | Adult More Issues Than Vogue Sweatshirt Hoodie check it now at Amazon | Tom Turkey's Thanksgiving Trivia Challenge: More than 60 questions and answers about the Thanksgiving Holiday$7.99 | God Has Not Forgotten About You: ...and He Cares More Than You Can Imagine$4.75 | Fault Lines: The Sixties, the Culture War, and the Return of the Divine Feminine check it now at Amazon | More About Royal Copley: Plus Royal Windsor and Spaulding check it now at Amazon | Black & Tan: A Collection of Essays and Excursions on Slavery, Culture War, and Scripture in America check it now at Amazon | Tales From the Sustainable Underground: A Wild Journey with People Who Care More About the Planet Than the Law$10 | America's Culture Wars and Its Idiotic Clichés: 36 Destructive Clichés that Undermine our Culture, Values, and Security check it now at Amazon | Healing Khadijah Hussein:: A Humor Novel about Burqas, naqib, Malaysia, Culture-clash and the power of friendship check it now at Amazon | Culture War and Ethical Theory check it now at Amazon | Culture Wars and the Global Village : A Diplomat's Perspective check it now at Amazon | Soldiers of Misfortune: The New Right's Culture War and the Politics of Political Correctness (Counterpoints) check it now at Amazon | U.S. Army War College Guide to National Security Issues: Theory of War and Strategy check it now at Amazon |
Hispanics care more about economic issues than culture wars and GOP should pay attention have 1420 words, post on www.foxnews.com at September 27, 2022. This is cached page on USA Posts. If you want remove this page, please contact us.