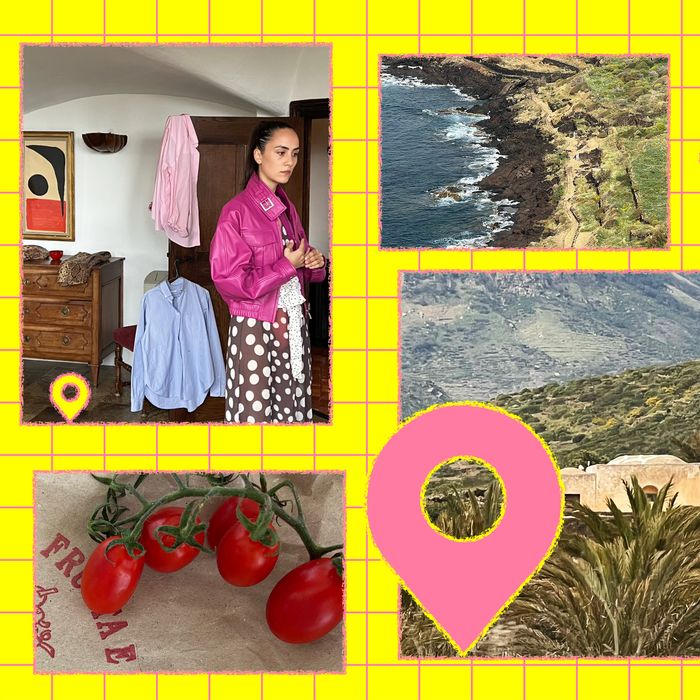 Photo-Illustration: The Strategist; Photos: Barbara Potts
Everyone knows that person who spends weeks sniffing around travel blogs, going deep into Tripadvisor rabbit holes, collecting Google docs from friends of friends, and creating A Beautiful Mind– style spreadsheets to come up with the best vacations /itineraries possible. In this recurring series, we find those people who've done all the work for you and have them walk us through a particularly wonderful, especially well-thought-out vacation they took that you can actually steal.
As her maternity leave was coming to an end this spring, Barbara Potts, co-founder of Saks Potts , was eager to book a relaxing trip with her boyfriend and their 7-month-old before heading back to work. "Sort of like a baby honeymoon ," she jokes. Potts, who's based in Copenhagen, was committed to traveling somewhere restorative — a destination that would satisfy her hankering for peace and quiet, locally produced food, hiking , sunsets, and the sea. An Italian friend suggested Pantelleria, a small island between Sicily and Tunisia, which led to other friends advising her to rent the "very specific, very beautiful house" from her favorite film, Luca Guadagnino's A Bigger Splash . "I fell in love with the architecture on the island; you can really see the Arab influence," says Potts of the dammusi , the single-story homes built from local volcanic stones typical to Pantelleria. Here, she shares details from a week of laid-back island life: savory meals made with fresh produce, meandering strolls along the beach, and swims in a volcano-created lake.
Day 1
11 a.m.: Take multiple flights to Pantelleria
We landed in Pantelleria after many connecting flights. As we were traveling in the off-season, there were very few flights, so we had to travel from Copenhagen to Zurich, Zurich to Palermo, and Palermo to Pantelleria. We were traveling with our young daughter — we were all very tired but excited. The last flight was a really tiny aircraft, so we could see the island's volcanic surface as we got near the airport of Pantelleria. We rented a car at the airport. There is a typical island spirit, very trusting and local — we got this old car with almost no need for any signatures! We packed up the Panda and drove 20 minutes through the beautiful volcanic island to the house.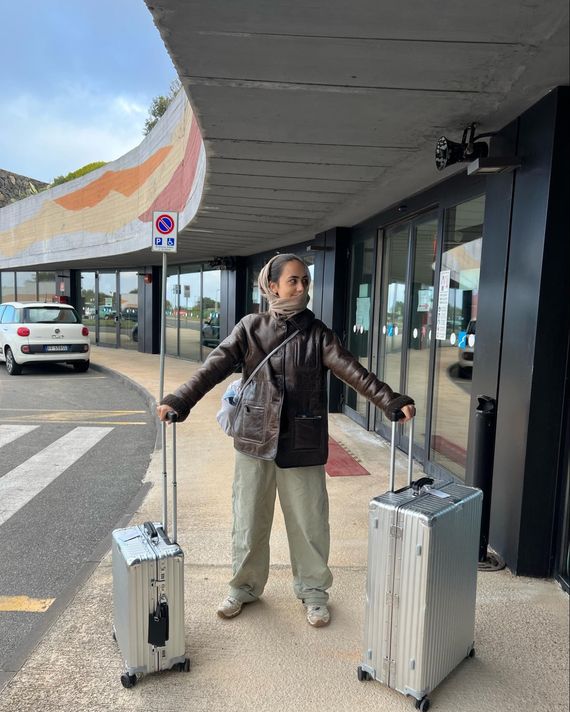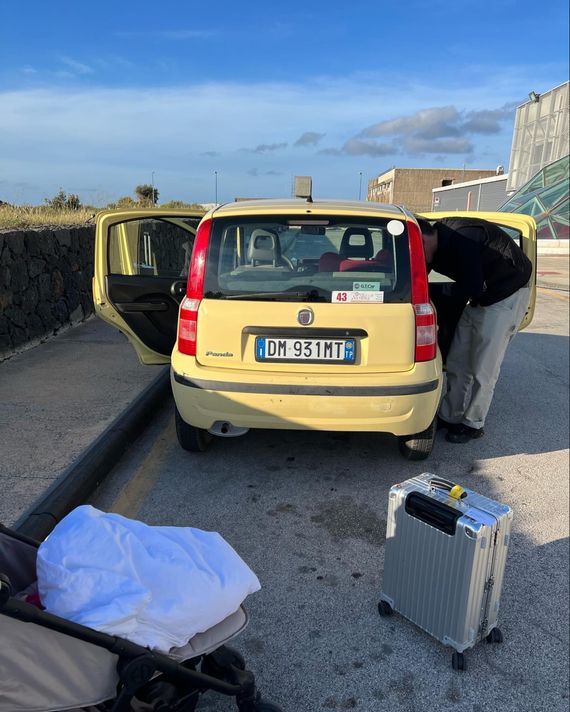 Noon: Rent a house from a Luca Guadagnino film
We arrived at the house after a gorgeous trip; the terrain is darkened and dry, and the houses are made of thick, earth-toned lava stone. Pantelleria is known as "the pearl of the Mediterranean," and the dwellings are cube-shaped, simple, and situated along cliffs with a view. Our house for the next four days was Dammuso Grande , the house from the 2015 film A Bigger Splash by Luca Guadagnino. The island is like a heavy perfume: sexy, dark, and somewhat moody.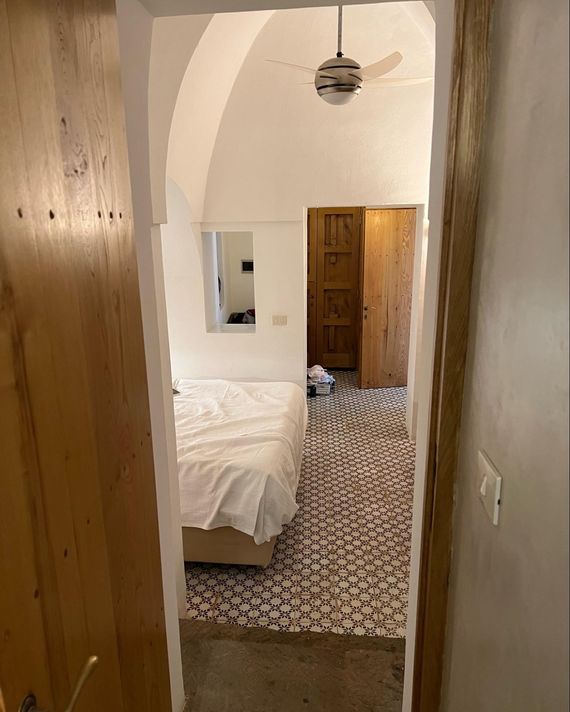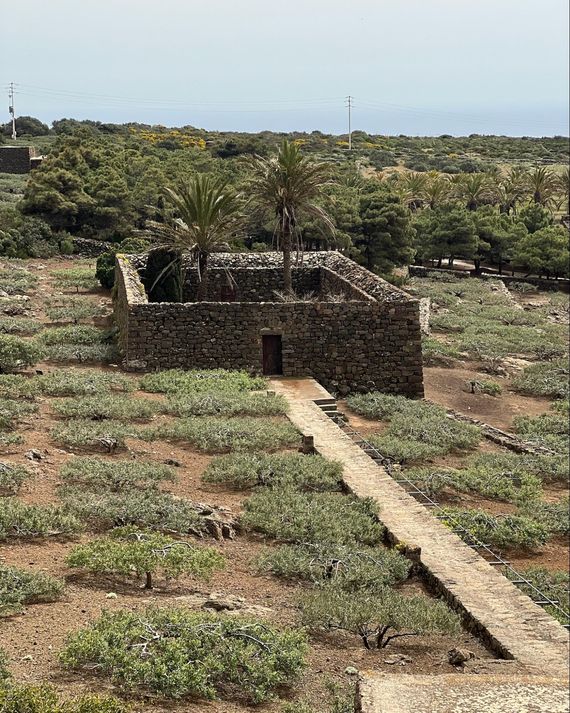 Day 2
9 a.m.: Stock the kitchen with fresh produce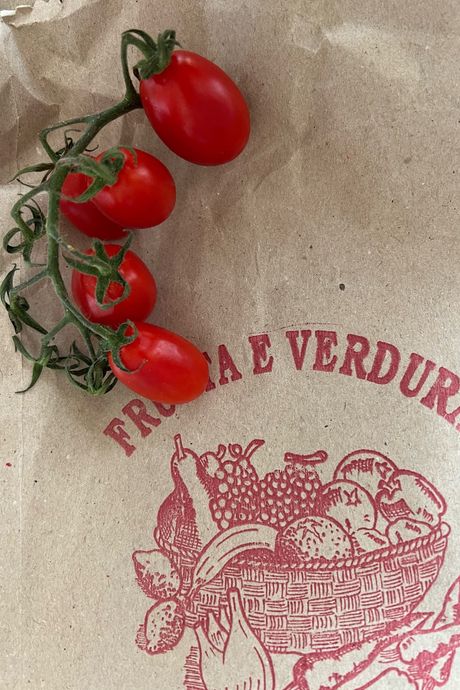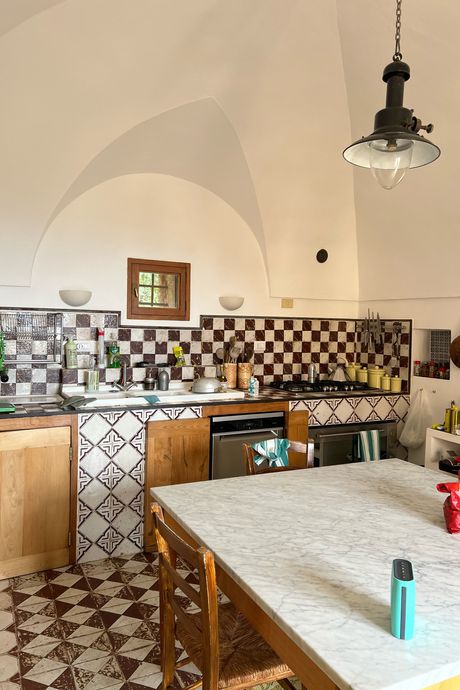 We were excited to go grocery shopping at the local market. Everything is really simple and small, like just a food stand or two. We picked up tomatoes, eggs, bread, and peaches. The idea was to make a large bowl of uncomplicated pasta for dinner. When we got the keys to the house, we also received this giant can of locally produced olive oil. We end up buying cans of the same oil to bring home for friends and family — it is spectacular.
3 p.m.: Relax by the pool and eat some pasta
On our first full day there, we settled in by the pool and got to know the house. My boyfriend, Rasmus, is an architect and was very interested and fascinated by the place. In the afternoon, we ate some salty chips and sipped lemonade on the terrace while stray cats ran around. Rasmus made us pasta, and after we ate, we went up to the roof of the house to see both the view of the island and the sea.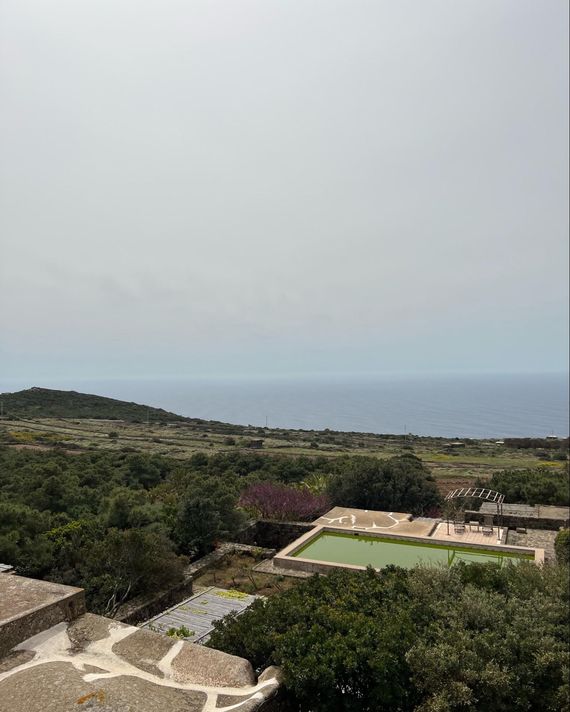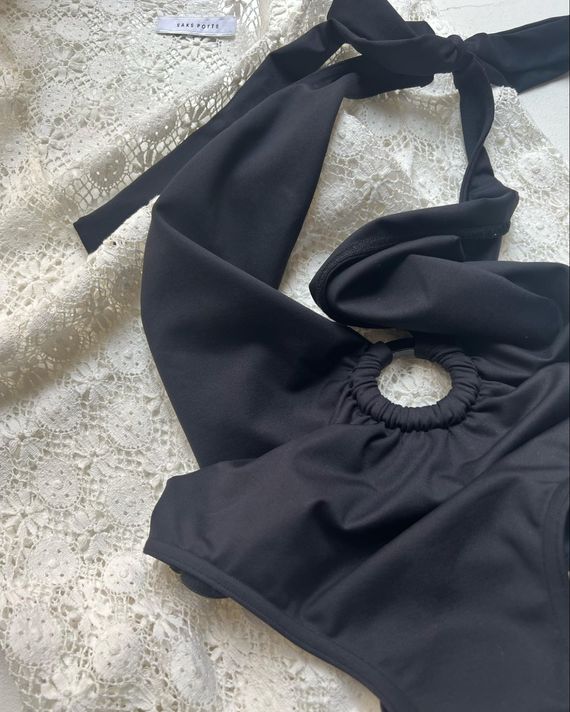 Day 3
6 a.m.: Hike and pick capers along the way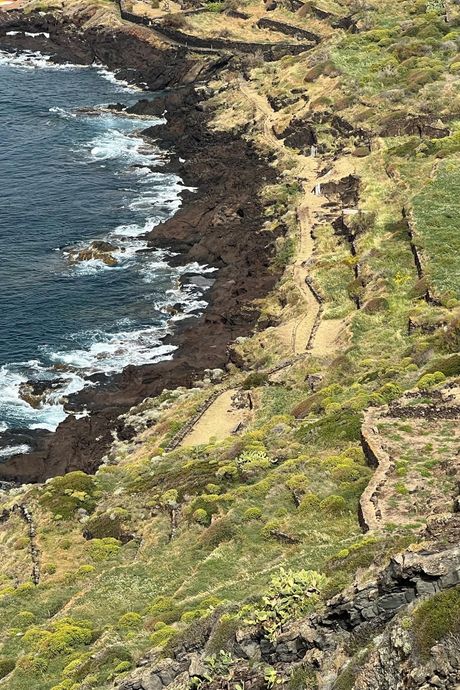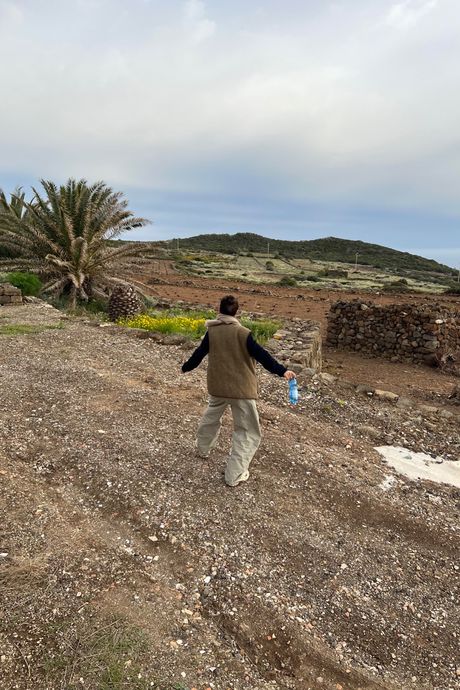 We got an early start since our daughter wakes up early — vacation or not. We planned to go for a long hike around the island, the three of us. We ate some bread and eggs, threw on some clothes, and got going. We started on the south side of the island, not far from the house, and followed the trails on the east side, almost along the beach, and headed toward an area called Kamma. The island is largely untouched by the masses, which makes it feel almost magical. Like, is this place real? We explored most of the island on foot that day. The weather was a bit moody, which only added to the mystique of the place, especially since we were here in the off-season. While hiking, I recommend looking for capers, they are everywhere and absolutely embody the taste of Pantellerian cuisine.
1 p.m.: Have lunch in a valley
We stopped for lunch at this crazy place called Coste Ghirlanda – Officina ( 91017 Pantelleria ). Great seafood and wine, but more importantly, it feels like a movie set: You walk down cliffs to get deep into this small valley with a cliffside covered in greenery. It's like you're in a pot of earth and nature.
3 p.m.: Swim in a volcano
Our last stop of today's hike was the most important: Lago di Venere (mirror of Venus) in the northern part of the island. The lake is within a volcano, and the water is muddy and filled with pockets of warm bubbling water.
Photo: Emilio Messina/Shutterstock
Day 4
Noon: Catch up on work at home
After returning from visiting friends who were also staying on the island, we spent the afternoon catching up on work at home while our daughter slept.
4 p.m.: Have one last dinner with the locals
Earlier in the day, our friends told us about this incredible restaurant they love, Il Principe e il Pirata ( Località Punta Karace, 5 ). We made a reservation for dinner that night. Getting ready, I realized I packed correctly for once — with crisp button-downs and laid-back pants that work out on the trails as well as in the kitchen cooking dinner. We went to dinner, and I felt very at home with the other guests of the restaurant. I ordered the grilled beef filet with some baked potatoes and a lovely fior di latte gelato with caramel for dessert. The vibe was low-key with mismatched chairs and white table clothes. This trip inspired us more than we could have ever imagined.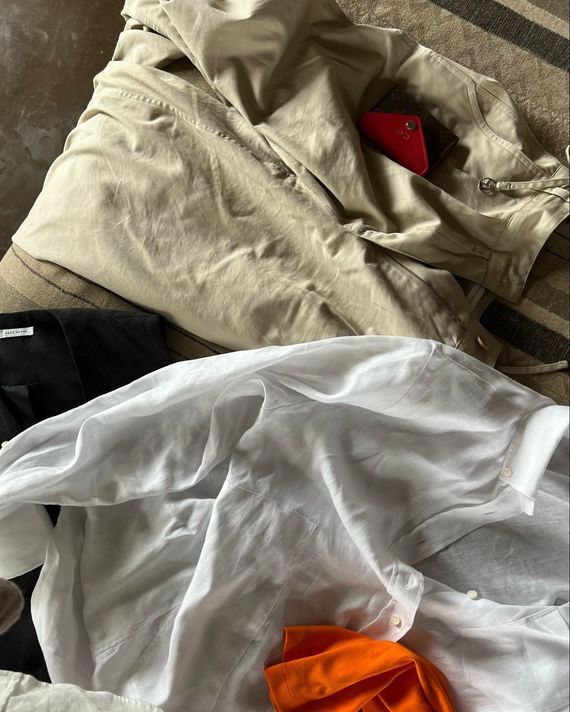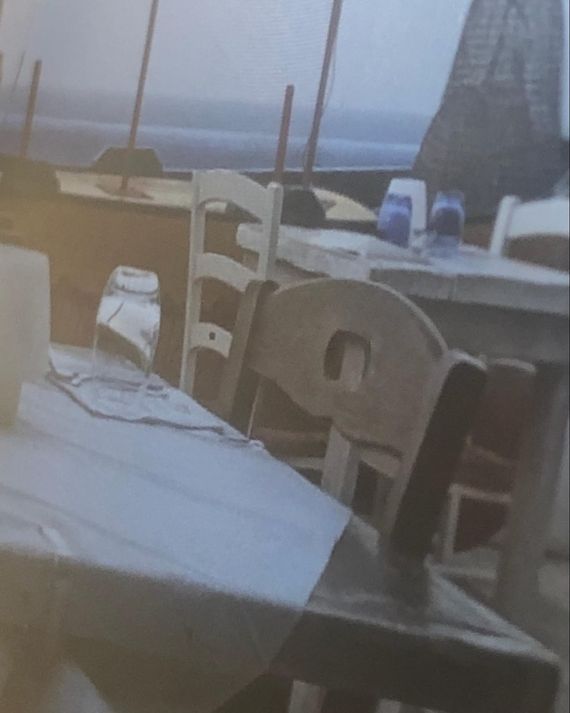 Barbara's Pantelleria packing list
I don't really wear makeup, but this is my all-day, everyday go-to, which is the perfect multi-use product for the whole face. The island is so simple, so you really don't need much else.
I love these socks for lounging around the house, and they're ideal for hiking as they're naturally insulating and moisture-wicking. They're also stylish enough to wear for a little ankle exposure with tennis shoes.
The terrain is wild in Pantelleria. You definitely need something indestructible to roll around.
The perfect pants for hiking, cooking, and exploring, which is all you'll be doing here.
Some more rolling luggage we've written about
The Strategist is designed to surface the most useful, expert recommendations for things to buy across the vast e-commerce landscape. Some of our latest conquests include the best acne treatments , rolling luggage , pillows for side sleepers , natural anxiety remedies , and bath towels . We update links when possible, but note that deals can expire and all prices are subject to change.
| | | | | | | | | | | | | | | | | | | | | | | | | | | | | | |
| --- | --- | --- | --- | --- | --- | --- | --- | --- | --- | --- | --- | --- | --- | --- | --- | --- | --- | --- | --- | --- | --- | --- | --- | --- | --- | --- | --- | --- | --- |
| LG G2 Case, Bastex Heavy Duty Protective Purple/Silver with Flowers and Vines Snap On Case for LG G2 D800 check it now at Amazon | KoDsign Lite Series Ultra Slim and Clear Snap-On Case for iPhone 5 & 5S - Crystal Clear check it now at Amazon | Michael Kors Signature Leather and Plastic Snap on Case for Samsung Galaxy S4. check it now at Amazon | Paisley Green and Brown Design on Verizon iPhone 4 Case by Coveroo check it now at Amazon | I Stink DVD!...and more stories on wheels4.6★ / $6.47 | Quality Iron Ghost Vinyl Mask for Adults (Up to 20 Styles for You to Enjoy and Pick)! Style 9 Guaranteed 2-3 Day Delivery!! check it now at Amazon | GT® 4" Cotton Elastic Bandage with Hook and Loop Closure on both ends, 4 inches wide x (13 to 15 ft. when stretched), 2 Pack$12.95 | Vet's Best Plant Based Formula Flea and Tick Spot-On Drops for Dogs check it now at Amazon | BANDANA - I got fixed (and wasn't even broken) for Medium to Large Dogs - turquoise check it now at Amazon | Biospotix 100 Percent Natural Flea And Tick Spot-On Repellent For Cats, 1 Ml Pipettes, Pack Of 5 check it now at Amazon | Aerosole Fuchsia and Orange Slip On Slippers for Women check it now at Amazon | Aerosole Purple and Lavender Slip On Slippers for Women check it now at Amazon | Gloatin' and Showboatin': Live On St. Patrick's Day$11.43 | Dignified White Faux Pearl and Crystal Clip On Earrings - Perfect Wedding Day Jewelry check it now at Amazon | Pro Jewelry Dangling "I Love You Hand Sign" Clip-on Bead for Chain Link Charm Bracelets 33748 check it now at Amazon | Platte River 155669, 300-pack, Hardware, Casters And Glides, Tack-on Glides, 3/4" Gray Tack Glides$22.65 | Capri PH41404-5 Pocket Photo Album with Woof and Dog Bone on the Cover, 4 by 6-Inch check it now at Amazon | GT® 4" Cotton Elastic Bandage with Hook and Loop Closure on both ends, 4 inches wide x (13 to 15 ft. when stretched) check it now at Amazon | Best Easy Day Hikes Sequoia and Kings Canyon National Parks (Best Easy Day Hikes Series)4.5★ / $6.09 | Best Easy Day Hikes Zion and Bryce Canyon National Parks (Best Easy Day Hikes Series)$9.95 | Best Easy Day Hikes Glacier and Waterton Lakes National Parks (Best Easy Day Hikes Series)4.3★ / $1.48 | When I'm Praising God: Devotional Thoughts on Worship for Women check it now at Amazon | How to Trap a Zombie, Track a Vampire, and Other Hands-On Activities for Monster Hunters: A Young Wizards Handbook check it now at Amazon | When I'm Praising God (Devotional Thoughts on Worship for Women) check it now at Amazon | Open and Unabashed Reviews on Waiting for Snow in Havana: Confessions of a Cuban Boy check it now at Amazon | Dreams And Wishes: Essays on Writing for Children check it now at Amazon | The Formula: How I Found It and What It Can Do For You$9.99 | Gleanings from the Field: Sermons, Poems, Addresses, and Short Essays on Topics of the Day check it now at Amazon | Stopping And Starting Multiple Sclerosis Attacks: How I Stopped My R/R Multiple Sclerosis Attacks In 4 Days$18.5 | Trout: Second Edition, Revised and Enlarged, with New Illustrations and New Chapters on Spinning for Trout check it now at Amazon |
I Hiked, Swam, and Picked Capers on Pantelleria for 4 Days have 2023 words, post on nymag.com at August 12, 2022. This is cached page on USA Posts. If you want remove this page, please contact us.