Sen. Lindsey Graham, R-SC, argues against the 'Inflation Reduction Act' and warns the bill will 'make every problem worse.'
NEW
You can now listen to Fox News articles!
House Democrats passed on Friday a $739 billion climate change, tax hike, and healthcare bill, giving President Biden's domestic agenda a boost at a time of record high inflation and low presidential job approval numbers.
In a 220-to-207 vote, the House voted along party lines to approve the legislation. Every single Democrat supported the bill in the face of opposition from all Republicans except three who did not vote.
"Today is really a glorious day for us," said House Speaker Nancy Pelosi, D-Calif. "We send to the president's desk a monumental bill that will be truly for the people."
Republicans vehemently opposed the bill, arguing its provisions will worsen the U.S. economy and impose new burdens on American workers.
"Remember this day," said House Minority Leader Kevin McCarthy, R-Calif. "When Democrats jammed through a 700-page bill that raises your taxes and doubles the size of the IRS."
DEMOCRATS DEFEND IRS FUNDING INCLUDED IN INFLATION REDUCTION ACT, REFUTE GOP'S 'ARMY' OF AGENTS CLAIM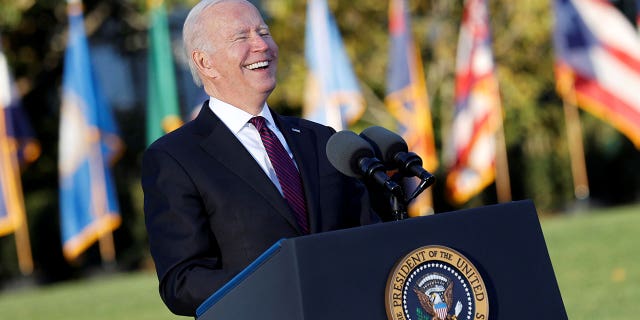 President Biden smiles during his remarks before signing the Infrastructure Investment and Jobs Act on the South Lawn at the White House in Washington on Nov. 15, 2021. (REUTERS/Jonathan Ernst)
The legislation, which has already been passed by the Senate, now heads to the president, who is expected to sign it shortly. Its passage represents a win for Biden, whose young White House tenure has been rocked by 40-year high inflation, recession and sinking poll numbers .
"This bill reflects much of what we wanted to see — not everything we wanted to see — let me be clear on that, but it is a very significant step forward," said House Majority leader Steny Hoyer, D-Md. "It will reduce the deficit, lower costs and expand access to affordable health care, all while making the biggest investment in history to address the global climate crisis."
Democrats began working on the bill shortly after Biden took office. Initially named Build Back Better, the legislation was proposed as an ambitious overhaul of the nation's economy and climate infrastructure.
TRUMP PLEDGES TO CAMPAIGN AGAINST MANCHIN IN WEST VIRGINIA BECAUSE OF SPENDING BILL DEAL
Boasting a price tag above $3.5 trillion, that iteration of the legislation disintegrated in the face of Democratic disunity within the 50-50 Senate.
Sen. Joe Manchin, in particular, refused to support the bill last year over concerns it would exacerbate inflation. The West Virginia Democrat's opposition was enough to derail the bill, since widespread GOP opposition meant the only way to pass the bill through the Senate was by a party-line process known as budget reconciliation.
Despite Manchin's opposition, Senate Majority Leader Chuck Schumer, D-N.Y., worked to revive the package. Out of those private negotiations between Schumer and Manchin arose the Inflation Reduction Act .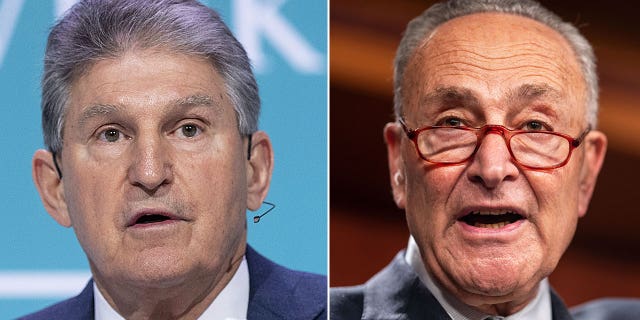 Sen. Joe Manchin, a Democrat from West Virginia, left (F. Carter Smith/Bloomberg via Getty Images); Senate Majority Leader Chuck Schumer, D-N.Y. (Kent Nishimura / Los Angeles Times via Getty Images) ( )
The bill allows Medicare to negotiate the price of some life-saving prescription drugs starting in 2023. Democrats say the move will save the government $288 billion over the next decade.
"Democrats have been fighting for years to lower drug prices, and this bill lets Medicare negotiate with drug companies," said Rep. James McGovern, D-Mass. "It caps the out-of-pocket cost of insulin at $35 for people on Medicare … if you're on Medicare, you won't have to pay more than $2,000 a year for your prescriptions."
The Manchin-Schumer bill also imposes a 15% minimum tax on corporations, a move that is slated to raise $313 billion. Democrats also say by investing in the Internal Revenue Service they can save an additional $124 billion.
CLICK HERE TO GET THE FOX NEWS APP
Overall, the bill proposes to raise $739 billion. Of that sum, $369 billion is slated to go to climate change subsidies to try to help reach Biden's goal of cutting greenhouse gas emissions 40% by 2030. A further $64 billion will go to expanding ObamaCare subsidies.
The rest of the new revenue, more than $300 billion, will go to paying down the deficit.
| | | | | | | | | | | | | | | | | | | | | | | | | | | | | | |
| --- | --- | --- | --- | --- | --- | --- | --- | --- | --- | --- | --- | --- | --- | --- | --- | --- | --- | --- | --- | --- | --- | --- | --- | --- | --- | --- | --- | --- | --- |
| Note 4 Case,MLOVE Premium Full Housing TPU Protective Case Cover with Front and Back Protection and Built in Screen Protector check it now at Amazon | iPhone 5 Brand New Complete Full Middle Frame Bezel Housing with All Small Spare Parts(Silver and White) check it now at Amazon | Blackberry 9700 ONYX Gold Housing Cover Door Case Frame Fascia Plate and Buttons check it now at Amazon | Cell Phone House DIY Tiger Patten Different Phone Case And Cases Cover Fit For Samsung Galaxy S5 check it now at Amazon | iPhone 5 Brand New Complete Full Middle Frame Bezel Housing with All Small Spare Parts (Gold and white) check it now at Amazon | iPhone 5 Brand New Complete Full Middle Frame Bezel Housing with All Small Spare Parts(Gold and Black) check it now at Amazon | Xpresskit Xpresskey Series TBX Universal Transponder By Pass with X Key Port and D2D check it now at Amazon | Little House on the Prairie Seasons 1 - 9 and Special Collector's Edition Movies (10 Pack)4.5★ / $799.99 | Virtual Walks - Alpine Mountain Passes for indoor walking, treadmill and cycling workouts check it now at Amazon | House of Cards - The Complete Season 1 and 2 [Blu-ray] check it now at Amazon | Special Blend of Bonsai Soil & house plant soil with Canadian Peat, Perlite, and Turface - 2 lb bag check it now at Amazon | FFN - Open House Medium Feather Flag Kit w/ Spike and Travel Bag$59.99 | Pentair R172223 Housing O-Ring Replacement Pool/Spa Filter and Leaf Traps check it now at Amazon | Design House 501932 Lamp Post with Cross Arm and Electrical Outlet check it now at Amazon | Grateful Gnome - Original Circular Window Bird Feeder - Clear Acrylic House for Small Wild Birds Like Finch and Chickadees4.8★ / check it now at Amazon | Pentair R172212 Cartridge Housing Replacement Dynamic Series I Inline Pool and Spa Cartridge Filter check it now at Amazon | TWO 3" X 6" Ceramic Tile Address House Numbers Nautical Beach Scene Design LEFT AND RIGHT ENDS$24 | Hayward SPX1600T Housing Gasket Replacement for Hayward Super Pump and MaxFlo Pump$10.06 | Hayward SPX1580Z1 Housing O-Ring Replacement for Hayward Pumps and Filters check it now at Amazon | This house is blessed with family friends love and laughter wall art wall sayings check it now at Amazon | Pentair 356002 Almond Housing Pump Replacement Pinnacle High Flow Pool and Spa Pump check it now at Amazon | Hayward SPX3200A Housing Pump Replacement for Select Hayward Tristar and Ecostar Pump check it now at Amazon | Schrodt Colony Bat House, Triple Chambered Nursery, Etched Brass Moon and Branded Bat Design check it now at Amazon | Long Gothic House Terrarium (Wardian Case) with Access Window and Live Plants check it now at Amazon | Passing It On : The Inheritance and Use of Summer Houses$5.77 | House of Blues: A Backstage Pass to the Artists, Music, and Legends$15.98 | Sh*t My Vice-President Says: With Bonus Material from the Obama White House, Democratic Congress, and Other Special Friends!$10.99 | How to Pass It On : The Ownership and Use of Summer Houses$32.97 | GM Genuine Parts 19333218 Rear Axle Housing Cover Kit with Plug, Brackets, Gasket, and Bolt$56.98 | Dumb Democrats Nancy Pelosi Chuck Schumer Pro Trum - Peel and Stick - Sticker Graphic - Die Cut Vinyl$4.99 |
House Democrats pass $739B Manchin-Schumer spending and tax increase bill have 1363 words, post on www.foxnews.com at August 12, 2022. This is cached page on USA Posts. If you want remove this page, please contact us.