Fox News Flash top headlines are here. Check out what's clicking on Foxnews.com.
NEW
You can now listen to Fox News articles!
The drug smuggling trial involving two-time Olympic gold medalist and WNBA star Brittney Griner will resume Thursday amid claims by Russian officials that Griner may appeal her sentence or ask for clemency, a possible foreshadowing of what's to come for the American basketball player.
Russia's Foreign Ministry said during a news briefing Wednesday that Griner will have the ability to appeal her verdict once the ruling is in and disputed claims made by the U.S. that the Phoenix Mercury star was wrongfully detained Feb. 17.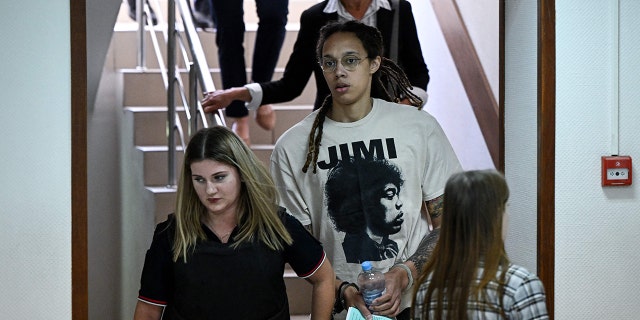 WNBA basketball star Brittney Griner, center, arrives to a hearing at the Khimki Court outside Moscow July 1, 2022. (Krill Kudryavtsev/AFP via Getty Images)
"The court must first deliver its verdict, but no one is stopping Brittney Griner from making use of the appeal procedure and also from requesting clemency," a spokesperson for the ministry said, according to The New York Times.
The spokesperson added that there was "indisputable evidence" to support the government's case and that "attempts to present her case as though the American woman was illegally detained do not stand up to criticism."
BIDEN REASSURES BRITTNEY GRINER'S WIFE US IS WORKING TO SECURE HER RELEASE FROM RUSSIA 'AS SOON AS POSSIBLE'
However, talk of an appeal or request for clemency just two days into Griner's trial and months into her detention seems to suggest a grim outcome.
"The decision regarding Ms. Griner has likely been made, and she will almost certainly be convicted," former U.S. intel officer Rebekah Koffler told Fox News Digital. " Russian intelligence services have a very nuanced understanding of U.S. domestic politics, which they seek to exploit, as a matter of standard tradecraft.
"They know the Biden Administration is under pressure to bring Ms. Griner home, as this is a high-profile high-stakes case, with Ms. Griner being a prominent personality, Black gay female, etc. There's virtually no independent judicial process in Russia, especially when it comes to the politically-charged case like this."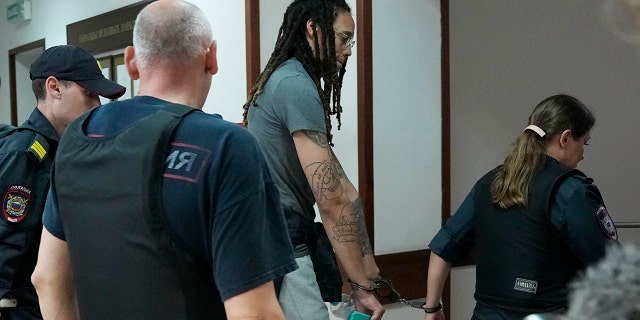 WNBA star and two-time Olympic gold medalist Brittney Griner leaves a courtroom after a hearing in Khimki, just outside Moscow, Russia, June 27, 2022. (AP Photo/Alexander Zemlianichenko)
According to a report from the State Department — "Russia 2021 Human Rights Report"  — the outcome of "high-profile or politically sensitive cases" in Russia was sometimes found to be "predetermined."
"The law provides for an independent judiciary, but judges remained subject to influence from the executive branch, the armed forces and other security forces, particularly in high-profile or politically sensitive cases, as well as to corruption. The outcomes of some trials appeared predetermined," the report states.
WHITE HOUSE SAYS JOE BIDEN HAS READ BRITTNEY GRINER'S LETTER, MUM ON POTENTIAL TALKS WITH WNBA STAR'S FAMILY
That same report also found that, in 2020, only 0.34% of defendants were acquitted. Even if Griner is acquitted, the ruling could be overturned under Russian law.
"Clemency is unlikely at this time, as Russia believes that the U.S. is fueling the conflict in Ukraine by providing weaponry to Kyiv," Koffler added. "There's a minuscule chance that [Vladimir] Putin would give clemency to appear magnanimous and make a propaganda case out of it portraying himself as humane, etc., but it would depend on many other things. Or if Biden promises Putin something of value, such as lifting the sanctions or cancel(ing) arms supplies to Ukraine."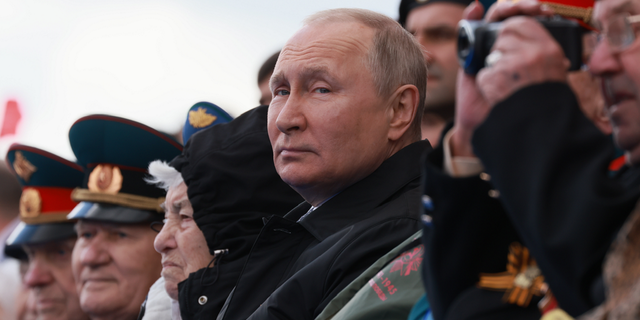 Russian President Vladimir Putin during the Victory Day military parade marking the 77th anniversary of the end of World War II in Moscow, Russia, May 9, 2022. (Mikhail Metzel, Sputnik, Kremlin Pool Photo via AP)
Griner was arrested at Sheremetyevo Airport Feb. 17 after she was accused of bringing vape cartridges containing oils derived from cannabis through security. Her arrest came a week before Russia launched its invasion of Ukraine, but news of her detention did not spread until March.
The White House has made it clear that it believes Griner was "wrongfully" detained and that getting her back safely in the U.S. is a "priority" for the president. Griner's family made several public requests to speak directly to President Joe Biden on the matter.
CLICK HERE FOR MORE SPORTS COVERAGE ON FOXNEWS.COM
On Wednesday, the White House confirmed that Biden and Vice President Kamala Harris finally spoke directly to Griner's wife.
"President Biden, joined by Vice President Harris, spoke today with Cherelle Griner, the wife of Brittney Griner who is wrongfully detained in Russia under intolerable circumstances," a White House readout of the call said. "The President called Cherelle to reassure her that he is working to secure Brittney's release as soon as possible, as well as the release of Paul Whelan and other U.S. nationals who are wrongfully detained or held hostage in Russia and around the world."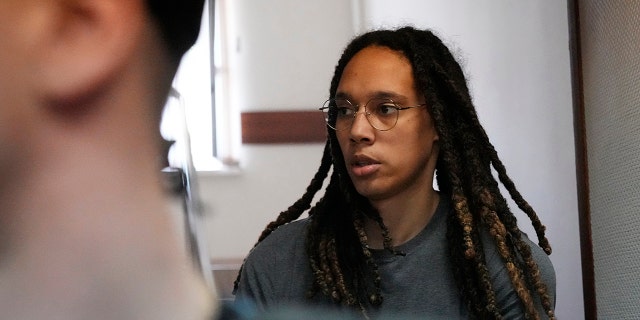 WNBA star and two-time Olympic gold medalist Brittney Griner is escorted to a courtroom for a hearing in Khimki, just outside Moscow, Russia, June 27, 2022. (AP Photo/Alexander Zemlianichenko)
Griner addressed a letter to Biden and his administration earlier in the week, asking U.S. officials not to forget about her and other Americans detained overseas. The White House said that Biden was sending a letter to Griner Wednesday.
Koffler told Fox News Digital that Griner's return home will likely be a result of a prisoner swap.
"Putin and the Kremlin want to exchange Brittney Griner for Viktor Bout, the 'Merchant of Death,' no one else. They will drag on the entire process, including appeal, simply as a negotiating tool to get what they want out of the Biden administration.
"Bottom line, Putin will use Ms. Griner for his negotiating leverage in a prisoner swap case or something else. The more news this case makes here in the U.S., stirring emotions, the deeper the Russians will dig in their heels, demanding exchange for Bout or some other concessions. They know our hot buttons."
CLICK HERE TO GET THE FOX NEWS APP
Griner has played in Russia for the last seven years during the winter, earning over $1 million per season — more than quadruple her WNBA salary. She last played for her Russian team, UMMC Ekaterinburg, Jan. 29 before the league took a two-week break in early February for the FIBA World Cup qualifying tournaments.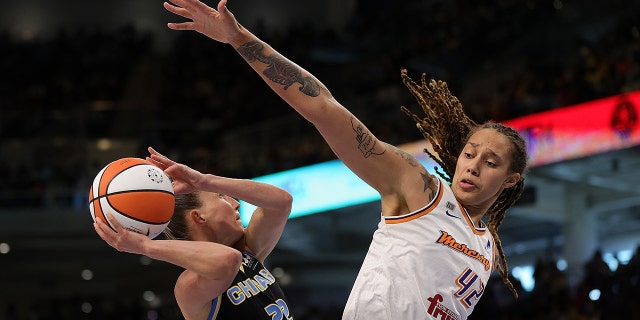 Courtney Vandersloot, #22 of the Chicago Sky, drives to the basket against Brittney Griner, #42 of the Phoenix Mercury, during Game 4 of the WNBA Finals at Wintrust Arena Oct. 17, 2021 in Chicago. (Stacy Revere/Getty Images)
The seven-time All-Star has won two Olympic gold medals with the U.S., a WNBA championship with the Mercury and a national championship at Baylor.
If convicted, Griner faces up to 10 years in prison.
Fox News' Ryan Gaydos and The Associated Press contributed to this report.
Paulina Dedaj is a Digital Reporter for Fox News and Fox Business. Follow Paulina Dedaj on Twitter at @PaulinaDedaj. If you've got a tip, you can email Paulina at [email protected]
| | | | | | | | | | | | | | | | | | | | | | | | | | | | | | |
| --- | --- | --- | --- | --- | --- | --- | --- | --- | --- | --- | --- | --- | --- | --- | --- | --- | --- | --- | --- | --- | --- | --- | --- | --- | --- | --- | --- | --- | --- |
| Top Gear - Back in the Fast Lane: Best of BBC Series 1 & 2 [Region 2]$53.99 | Authorized International Edition of the Soyuzmultfilm Library (in Russian) Vol 34: Mystery of the 3rd Planet [VHS] check it now at Amazon | B&D Cross body handbag Just As Relevant Today As It Was Back In The Day check it now at Amazon | Back in the Day: The Best of Bootsy$43.53 | Back in the Day: The Best of Bootsy by Collins, Bootsy (1994) Audio CD5.0★ / check it now at Amazon | La Reverdie: Svso In Italia Bella: Music in the Courts and Cloisters of Northern Italy check it now at Amazon | Milex 3 in 1 Magnetic As Seen on TV Back Support and Healing Belt Instant Relief Misery Back Pain check it now at Amazon | Russian Stage Two: Welcome Back! (The Russian-American Collaborative Series: Russian in Stages: Stage Two) check it now at Amazon | Abundantly You! On Purpose In Business: Face The Fear of The Unknown (The Bounceback Series) (Volume 3)$14.95 | God, Caesar, and the Constitution;: The Court as referee of Church-state confrontation check it now at Amazon | The Russian settlement in California known as Fort Ross, founded 1812, abandoned 1841: why the Russians came and why they left$15.75 | From Realism to the Silver Age: New Studies in Russian Artistic Culture (Studies of the Harriman Institute)$24.38 | The Great Love - We Came Here as Teachers of Love and Got Enrolled in the School of Fear$12 | Eve's Memoirs: The Answers I needed to know as a woman, I found back in the Garden$12.95 | Back in the High Life: Biography of Steve Winwood check it now at Amazon | Back in the Day:: A Memoir of Healdsburg's Golden Era in the 1940s and 1950s check it now at Amazon | Back In The Day: A journey of teenage males to love, be loved and accepted for who they are.$12.95 | Put the Baby Back in My Tummy: When Parenthood is Not Quite as Expected$19.99 | Back in the Saddle Again: How to Overcome Fear of Riding After a Motorcycle Accident$13.99 | Fatherless in Galilee: Jesus as Child of God check it now at Amazon | Step Back in Time: A Photo Journey of Whidbey's Island & a Saga of an Irish Pioneer Family check it now at Amazon | Fear of Judging: Sentencing Guidelines in the Federal Courts (Chicago Series on Sexuality, History)$34 | Step Back In Time, A Walking Tour of Black Mountain$32.09 | Order in the courts: A history of the federal court clerk's office check it now at Amazon | Crusaders in the Courts: Legal Battles of the Civil Rights Movement, Anniversary Edition$39.95 | Way Back in the Ozarks: The Story of a Boy, His Dog and His 'Coon (Country Classic) check it now at Amazon | Земля обетованная. Рассказы (in Russian). The Promised Land of Magic Realism check it now at Amazon | Back to Pavilion: The First Years Back in India: Observations, Anecdotes, & Insights of a Confused Desi$0.99 | Hung Like an Argentine Duck: A Journey Back in Time to the Origins of Sexual Intimacy check it now at Amazon | Back in My Life (feat. House of Shem) check it now at Amazon |
Brittney Griner back in Russian court as fear of conviction looms have 1777 words, post on www.foxnews.com at July 6, 2022. This is cached page on USA Posts. If you want remove this page, please contact us.