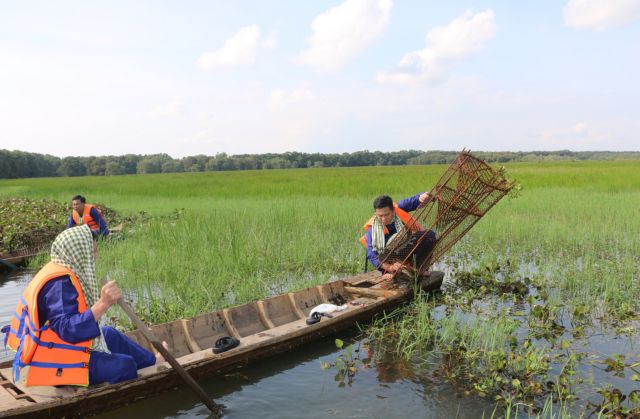 Tourists visit Tràm Chim National Park, a popular attraction in Đồng Tháp Province. VNA/VNS Photo
HCM CITY — The Cửu Long (Mekong) Delta province of Đồng Tháp will promote linkages with HCM City as part of its efforts to revive tourism, authorities have said.
The province had approved a plan for accelerating tourism revival with a number of measures focused on safe adaptation to the COVID-19 pandemic and strengthening linkages with other localities, Đoàn Tấn Bửu, deputy chairman of its People's Committee, said.
The province was designated 'medium risk' in the four-level scale, Bửu told a conference last week.
In the pilot phase of the tourism reopening roadmap between mid-November and mid-December Đồng Tháp plans to allow some tourist attractions to reopen, including the Xẻo Quýt national relic, Nguyễn Sinh Sắc relic, Gò Tháp relic, Tràm Chim National Park, and Phương Nam cultural tourist site.
To fully reopen in mid-January, local authorities have instructed businesses to comply with safety measures.
The province plans to carry out a comprehensive assessment of its tourism potential to adopt measures to realise it.
"Linkages for tourism development between HCM City and 13 cities and provinces in Mekong Delta play a vital role in adapting to the pandemic in a safe manner," Bửu said.
Nguyễn Thị Ánh Hoa, director of the HCM City Department of Tourism, said co-operation between HCM City and delta provinces began in 2019.
The second HCM City – Mekong Delta Tourism Connection Forum would be held in Đồng Tháp this year, paving the way for strengthening co-operation between the city and the province.
Travel products that link Củ Chi in HCM City, Mộc Hóa in Long An and Tràm Chim in Đồng Tháp should be promoted in the short term, Hoa said.
Travel operators in HCM City and major provinces in the south would also strengthen collaboration with Đồng Tháp to attract tourists to the province, she said.
Phan Thị Thắng, deputy chairwoman of the HCM City People's Committee, said community-based agro-tourism had become increasingly popular in Đồng Tháp, bringing economic benefits to farmers and enhancing protection of nature and development of local communities.
Community-based agro-tourism, which promises to attract domestic tourists amid the 'new normal' should be promoted in the province, she said.
The Gò Tháp Historical and Archaeological Heritage Site should be included in tour products between the city and Đồng Tháp, she said.
The two should foster mutual tourism co-operation and expand co-operation with other localities where the pandemic is under control to gradually revive tourism and bring back jobs, she added. —VNS
HCM City ties up with Mekong Delta to revive tourism have 1046 words, post on vietnamnews.vn at November 10, 2021. This is cached page on USA Posts. If you want remove this page, please contact us.