Fishery sector committed to combating IUU fishing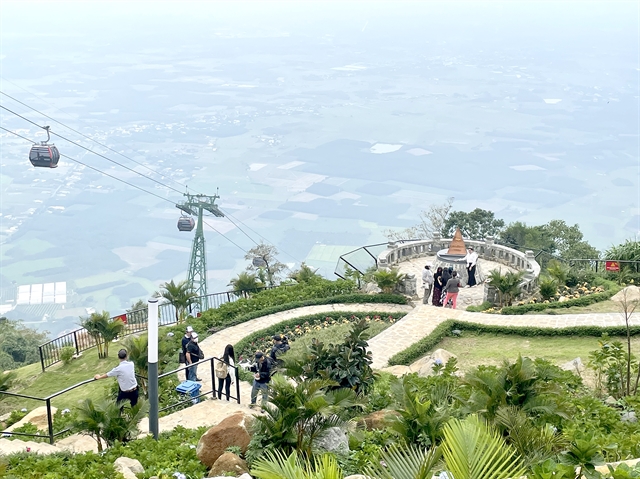 Over the past four years, the Vietnamese Government, associations and businesses in the fishery sector have made efforts to carry out recommendations of the European Commission (EC) and have its "yellow card" warning against illegal, unreported and unregulated (IUU) fishing lifted, heard a conference on October 23.
Nguyen Thi Thu Sac, Vice President of the Vietnam Association of Seafood Exporters and Producers (VASEP) and head of the VASEP Marine Product Committee, said Vietnam's aquatic product exports reach nearly 9 billion USD a year.
She, however, pointed out limitations in the management and exploitation of aquatic resources, which have yet to fully meet relevant legal regulations.
Violations in fishing regulations should be quickly handled to remove the "yellow card" issued by the EC in 2017, Sac said, adding that such violations would be threats to the fishery sector's sustainable and responsible development.
She also warned that once the EC imposes a "red card", Vietnamese seafood will not be allowed to enter the EU market, and the sector would loose around 387 million USD each year.
VASEP Deputy Secretary General Nguyen Hoai Nam said VASEP's IUU control board will work to maintain results recorded over the past four years, and deal with the limitations.
The communication work will be stepped up to raise public awareness of fishing regulations, he said, stressing the aim of ending violations in foreign waters at the end of this year, and have the "yellow card" removed in 2022./.
ADB ready to support HCM City in economic recovery: Country Director
The Asian Development Bank (ADB) stands ready to provide comprehensive assistance for Ho Chi Minh City's economic recovery in the short term, as well as its economic development in both medium and long terms.
ADB Country Director for Vietnam Andrew Jeffries made the promise during his virtual meeting with Chairman of the municipal People's Committee Phan Van Mai on October 23.
ADB is also willing to coordinate with HCM City in the disbursement of capital for joint projects and provision of credit to help recover local businesses affected by COVID-19 through intermediate financial institutions or guaranteed bank loans, he said.
Jeffries expressed his belief that HCM City will soon overcome adverse impacts of the pandemic, and spoke highly of the economic development capacity of HCM City and Vietnam as well in the medium and long terms.
The next six months will be an important period when businesses, especially small and medium-sized enterprises (SMEs), and investors should receive support to surpass difficulties caused by COVID-19, he said.
For his part, Mai applauded the bank's support to Vietnam in economic recovery and safe adaptation to the pandemic, highlighting the ADB-funded COVID-19 financial relief worth 5 million USD to support women-led SMEs, among others.
According to the official, the city has identified a phased economic recovery roadmap and drawn up 11 strategies to safely, flexibly adapt to and effectively control the COVID-19 pandemic.
HCM City wants to receive ADB's recommendations for its economic recovery strategies, he added.
The two sides agreed to improve the efficiency of cooperation in ongoing projects, and discuss new ones associated with economic recovery plans of HCM City and Vietnam./.
HCMC to connect tourism with south-central Vietnam
Tourists in HCMC can travel to three provinces in the south-central region in early November as the city has worked with three provinces there to promote tour programs.
At conferences on tourism promotion jointly organized by HCMC and the south-central provinces of Khanh Hoa, Phu Yen and Binh Dinh on October 21 and 22, the parties reached a consensus to organize tour programs in a safe and convenient manner.
At a conference aimed at promoting tourism between HCMC and Binh Dinh on October 22, travel firms in HCMC showed interest in operating tours to multiple tourist sites in the south-central province.
An HCMC-based firm proposed Binh Dinh issue guidelines on tourism safety and provide a list of Covid-safe hotels.
HCMC Vice Chairwoman Phan Thi Thang proposed Binh Dinh Province allow welcoming tourists to areas safe from Covid-19 from November 1.
Nguyen Tuan Thanh, vice chairman of Binh Dinh, highly valued the efforts of the tourism departments of Binh Dinh and HCMC to promote tourism, saying that the province identifies tourism as an economic growth driver and is planning to develop Quy Nhon City into one of the country's tourism centers.
The province is stepping up to raise the Covid vaccination rate to welcome local and international visitors.
From November 1, the province will reopen Phuong Mai Peninsula as residents there have received at least one shot of the Covid-19 vaccine, Thanh said, adding that Quy Nhon City will reopen its doors to tourists in late November.
Travelers 18 and older must be fully vaccinated against Covid-19 and show proof of a negative Covid test result, while visitors aged below 18 are required to show a valid negative test certificate, according to the representative of Binh Dinh.
On the same day, a conference connecting tourism between HCMC and Phu Yen was also held. At the event, the two localities agreed to implement domestic tourism programs.
Speaking at the event, Vo Anh Tai, deputy director of Saigontourist Group, proposed Phu Yen update Covid safety regulations in detail so that tour operators could launch tours and ensure the safety of tourists during the new normal.
The two localities should closely cooperate to offer attractive tourism packages for customers, Tai said.
HCMC Vice Chairwoman Thang also proposed the province welcome back tourists from HCMC from November 1, adding that the city will focus on road tours in the initial stage, Phap Luat Online reported.
Phu Yen Chairman Tran Huu The said that several tourist sites in the province remain unknown, thereby needing travel firms in HCMC to organize new tourism programs for these places.
Visitors from HCMC to Phu Yen Province must be fully vaccinated and test negative for Covid, The said, adding that the province will support Covid testing for those who have yet to undergo a Covid test.
Earlier on October 21, HCMC and Khanh Hoa Province held a tourism conference. The two localities planned to transport tourists from HCMC to Khanh Hoa by rail and air.
Vietnamese ports among top 50 effective container seaports
Three Vietnamese seaports have been named among the top 50 of the Container Port Performance Index (CPPI) launched by the World Bank and IHS Markit.
Cai Lan International Container Terminal in the northern province of Quang Ninh ranked at 46th while Hai Phong Port and Cai Mep International Terminal in the southern province of Ba Ria-Vung Tau ranked at 47th and 49th, respectively.
Yokohama port in Japan has been ranked as the most efficient port in the world, followed by Saudi Arabia's King Abdullah Port. Other ports in the top five are Chiwan, part of Shenzhen's port in Guangdong province, Guangzhou port of China and Taiwan's Kaoshiung port.
Ports in Asia, the Middle East and North Africa dominated the top 50 spots, while four US ports cracked the top 100 – Philadelphia (83rd), the Port of Virginia (85th), New York & New Jersey (89th) and Charleston, South Carolina (95th).
The COVID-19 pandemic has disrupted trade around the globe, snarling trade and exposing the frailty of a supply chain of goods. The US is the world's biggest consumer, importing goods valued at roughly 2.5 trillion USD a year.
Southern California's Los Angeles and Long Beach ports handle the most ocean cargo of any ports in the US, but are some of the least efficient in the world, according to the ranking which reviews 351 container ports around the globe.
Los Angeles was ranked 328th, behind Tanzania's Dar es Salaam and Alaska's Dutch Harbor while the port of Long Beach was at 333rd, behind Turkey's Nemrut Bay and Kenya's Mombasa.
The CPPI is based on the total port hours per ship call, with this being defined as the elapsed time between when a ship reaches a port to its departure from the berth after completing its cargo exchange./.
Economic growth from COVID-19 depends on vaccine rollout
Economic growth after the COVID-19 pandemic will largely depend on the vaccine rollout, according to experts.
They said that economic growth would also depend on the effectiveness and side effects of disease prevention measures and financial support packages. They said bad debts continued to be accumulated and could sharply increase to exceed the tolerance threshold of businesses. This is a potential financial risk in the post-pandemic economy.
Nguyen Duc Thanh, Director of the Vietnam Centre for Economic and Strategic Studies (VESS), said because of the slow pace of vaccination, Vietnam missed the beat of the world economy's recovery in 2021. This might lead to the loss of relative advantage. Vietnam's vaccine rollout was relatively slow compared to other countries.
The pandemic outbreaks in 2021 slowed the country's economy growth and caused supply chain disruptions and labour market disturbances. Domestic businesses had been severely hurt. In addition, geopolitical shifts and developments of the world economy might increase risks for businesses in terms of the price of raw material.
Thanh said economic growth in the first nine months this year did not really reflect all the difficulties of the economy. The resistance of enterprises had declined, particularly businesses in the southern cities and provinces which were suffering great losses due to the fourth wave of COVID-19.
Pham The Anh, Head of the Macroeconomics Department under the National Economics University, said the market demand had worsened due to the impact of the COVID-19 pandemic and goods circulation had also been severely affected.
Anh told participants that sooner or later, production costs would be reflected in the output prices such as expenses on gasoline, logistics, and costs of disease prevention. When social activities return to normal, consumer demand increases, the above factors would affect prices and put pressure on inflation. It was forecast that by the end of this year, the price of foodstuffs might rise due to difficulties in supply.
Thành forecast that the high growth scenario could be gained this year if all businesses reach adaption in terms of production and limit disruptions in goods supply as of the fourth quarter of 2021. With such a prediction, the country's gross domestic product (GDP) could reach less than two percent.
According to the expert the low growth scenario is that cities and provinces have not conducted synchronised measures in the fight against the pandemic. This will cause difficulties in goods circulation. This may lead to the disruption of contracts and production plans and a labour shortage. As a result, the country's GDP can fluctuate at 0.2 percent.
In order to ensure the country's economic growth in the high growth scenario, the Government should speed up vaccination campaigns in cities and provinces and ensure smooth circulation of goods as well as work out fiscal packages for businesses and assist unemployed workers.
Provincial authorities are also required to offer jobs for those who had fled Ho Chi Minh City and nearby provinces of Binh Duong, Dong Nai and Binh Phuoc several months ago due to the fourth COVID-19 wave that emerged in the country in late April./.
Real estate industry has hard time getting back on its feet post-pandemic
Real estate businesses in Ho Chi Minh City are gingerly reopening, mostly consulting and carrying out transactions online due to the COVID-19 prevention and control regulations still in force.
Tran Trong Tien, general director of a real estate brokerage in Binh Thanh district, said his company resumed operations at the beginning of October but is only allowed to have 30 percent of employees in office.
"Our main projects are in Phu Quoc Island and some other localities, but … we cannot take visitors to show them the projects, and most consultations are online."
Pham Lam, chairman of real estate services firm DKRA Vietnam, said most businesses in the industry had resumed operations, but were effecting few transactions since customers were hesitant to buy when they could not personally see the products. Most were opting to wait until they see them.
Nguyen Huong, General Director of Dai Phuc Land Real Estate Joint Stock Company, said the COVID-19 pandemic caused great difficulties for real estate businesses: all their previous plans had been binned and most faced cash flow pressures.
Banks cut lending to real estate business in the first half of this year, and this is likely to continue.
LienVietPostBank's financial statements show that loans outstanding to the real estate sector fell in the first 6 months of this year by 52 percent to 1.67 trillion VND (72.6 million USD), or only 0.87 percent of total loans.
At VPBank, the figure fell by 12 percent to 32.4 trillion VND.
Chairman of the HCM City Real Estate Association Le Hoang Chau wants the central bank to instruct lenders to reduce loan interest rates by 2 percentage points, extend payment terms and roll over loans and not turn them into bad debts to enable the industry to recover./.
Viet Nam to plans return of tourism and hospitality after COVID-19
After a bad year for business in 2020 as the COVID-19 pandemic shut down travel around the world, Viet Nam's tourism revenue fell even further this year. Plans were discussed by experts at a forum to access the current state of the hospitality market and map out a way towards a post-COVID-19 recovery.
Speaking at the "Viet Nam Tourism and Hospitality – Managing in Uncertain Times and the Way Forward", Vice-Chairman of the Viet Nam National Administration of Tourism, Ha Van Sieu, said the tourism industry experienced a decline of 16 per cent in domestic visitors and 41 per cent in tourism revenue in the first nine months of 2021, compared to the same period last year.
"Accommodations, tour operators and travel services have been shut down or closed temporarily while most international and domestic flights have been cancelled or interrupted significantly due to travel restrictions," Sieu said.
"The percentage of occupied rooms in Viet Nam's accommodation services was about 20 per cent in 2020 and less than 10 per cent in 2021."
RMIT Head of Management Department from the School of Business & Management Associate, Professor Nguyen Quang Trung, observed that "the past two years have been challenging for the hospitality and tourism landscape, leading to a really tough time for hotels, restaurants and tourism establishments."
In response to these uncertain times, InterContinental Hanoi Landmark72 General Manager, Patrick Verove, shared proactive plans which have helped the hotel overcome the difficulties.
"At a time of great uncertainty, we have ensured guests can trust us for flexibility, cleanliness, safety and wellbeing priority," Verove said.
"Faced with temporary closures and low demand, we have identified ways for operational changes to improve profitability, protect cash flow, apply sophisticated digital solutions and train our staff with a growth mindset."
Capella Hotel General Manager, Christoph Strahm, emphasised the hotel had taken various measures including speeding up the adaptation of "state-of-the-art" technology and the implementation of touchless services to deliver a modern guest experience.
"We have prioritised safety for both guests and staff by adopting touchless services such as contactless check-in and check-out, in-room tablets, mobile key and press reader, among others," Strahm said.
When talking about the local tourism recovery plan, experts thought about how the easing of restrictions can be managed, in line with the economy getting back on track. The tourism sector is expected to benefit from recovery measures and stimulus packages, allowing the sector to return gradually.
Sieu urged tourism and hospitality companies to revise their development strategies to adapt to new trends in tourism demands.
"Domestic tourism will surge, with a large proportion of travellers favouring green destinations ranging from beaches, mountains, forests, and national parks, followed by cuisine, culture, history and entertainment," he said.
"Tourism and hospitality companies should innovate and diversify into new products which focus on wellness, safety, nature and authentic experiences."
Two other panellists at the forum included Frasers Suites Hanoi General Manager, Sandy Ng, and Silk Path Hotels General Manager and Chief Business Officer, Nguyen Thi Thanh Thuy.
Following the success of a previous event in January, the online forum attracted close to 100 participants. They included local authorities and business leaders in the tourism and hospitality industry, as well as academics and students.
Ministry asks localities to increase inter-provincial passenger transport
The Ministry of Transport has issued a document asking People's Committees of cities and provinces to coordinate on the implementation of temporary guidelines on transport activities.
The measures are to ensure safe and flexible adaptation to and effective control of the COVID-19 pandemic.
The Government has issued Resolution No.128/NQ-CP on temporary regulations on safe and flexible adaptation to and effective control of COVID-19. To implement the resolution, the Health Ministry has promulgated temporary medical guidance and the Transport Ministry has also released temporary guidelines on transport activities in the five areas of land, inland waterway, maritime, railway and aviation.
Therefore, to ensure smooth and concerted transport activities, People's Committees of cities and provinces were asked to direct local agencies and units to follow the ministry's guidelines, and instruct departments of transport to increase passenger volume on fixed intra-provincial and inter-provincial routes licensed by the provincial authorities.
The ministry also suggested localities resume other routes depending on the local level of pandemic risk, while striving to maintain from 10 per cent to a maximum 50 per cent of licensed trips per month in line with requirements in the temporary guidelines.
In a report reviewing passenger transport activities on fixed routes during one week of resumption from October 13-18, the ministry said authorities of 48 provinces and cities had allowed the resumption of inter-provincial routes, while in 15 other localities, the transport departments had submitted plans to resume routes to the municipal/provincial authorities.
Tra Vinh needs Chinese experts fast-tracked for coal power plant
The southern province of Tra Vinh is seeking Hanoi's support to complete entry procedures for 11 Chinese workers amid the travel restrictions due to the Covid-19 pandemic.
According to Tra Vinh's proposal, during the pilot operation, the main transformer of Duyen Hai Thermal Power Plant's Turbine 2 faced some technical problems, including the replacement of the main transformer. However, the plant investor needs 11 Chinese experts for the work.
The Chinese will stay in Vietnam for less than 30 days.
The province has asked Hanoi authorities to create favourable conditions for the Chinese to enter the country through Noi Bai International Airport. They will be sent to a quarantine site in Hanoi for seven days.
After that, they will be brought to Tra Vinh and continue to be medically monitored at the Duyen Hai Thermal Power Plant.
The investor of Duyen Hai Thermal Power Plant's Turbine 2 has pledged to strictly conform to Covid-19 protocols and will pay costs related to the transportation and quarantine for the Chinese workers.
Tra Vinh scales up support to resume key operations
The Steering Committee on Administrative Reform and Strengthening the Provincial Competitiveness Index, known as PCI, of the Mekong Delta province of Tra Vinh has reviewed activities relating to the provincial PCI ranking in the third quarter, and discussed several measures and solutions to enhance efficiency towards the end of 2021.
Along with this, efforts were geared towards building video clips to present projects in the investment wish-list and the immense potential of Tra Vinh's marine economy, in which the province worked with the Ministry of Planning and Investment to develop a guidebook about the potential, advantages, and investment opportunities in the province.
Other activities involve hosting an online seminar calling for Japanese investors in the province and launching a website on investment promotion in Vietnamese-Japanese language. Moreover, the province wants to set up a taskforce to support investors and its action plan in a bid to help businesses quickly and effectively, and work on a comprehensive plan to uphold startups and innovation in Tra Vinh, among others. This year, the province has hailed 39 domestic and foreign investors in quest of investment opportunities in multiple fields as logistics, deepwater seaports, energy, tourism, and agriculture.
The steering committee has categorised four specific index groups to deliver an inclusive picture about the improvements and limitations in the province's PCI ranking in the past quarters and the year as a whole.
Accordingly, the component index group improved scoring and ranking six indices last year, showing that the local authorities handled their tasks effectively, particularly in dealing with the procedures on business registration.
All business records were received and given back to businesses timely. The required time for these processes was shortened by one day while online registrations reached 63.4 per cent on average in the third quarter, higher than the nine-month average level of over 53 per cent.
Some index groups had improved scoring but gained a lower ranking in 2020 (unofficial charges index), wherein sectors have strengthened inspection of staff performance to best serve businesses. Four inspections took place in Q3, affecting 22 businesses.
Other index groups with lower scoring but improved ranking in 2020 included transparency and labour training. Despite the pandemic, Tra Vinh has supported businesses and labourers to access policy benefits.
However, due to social distancing, fewer labourers received jobs in Q3. More than 16,600 workers were employed so far this year, reaching over 72 per cent of the projection, while nearly 300 others went abroad to work, equalling more than 32 per cent of the projection.
Unemployment allowance was approved for 11,340 workers with a total sum of $7.93 million.
The index group with lower scoring and ranking in 2020 refers to the business support index. Due to the pandemic, a string of trade fairs and market activities were suspended, causing difficulties to goods' consumption.
Le Thanh Binh, Deputy Chairman of Tra Vinh People's Committee and deputy chairman of the steering committee, voiced the need to take actions on removing hardships that hinder index improvement. He further urged to enhance management quality and operation efficiency of the committee, striving to constitute an increasingly open, transparent, and conducive business environment, thus boosting the province's appeal in the eyes of investors and businesses.
The PCI ranking is instrumental to attracting investment and facilitating the provincial development. As COVID-19 is gradually put under control, business support makes greater sense, and should be considered part of the local authorities' responsibility. The PCI proves imperative for the people's committees of the grassroots level across the province to scale up efforts to effectively fulfill their tasks detailed in the plan of Tra Vinh People's Committee and others by relevant governmental agencies.
Australia assists Vietnam to expand HR development
Australian Ambassador to Vietnam Robyn Mudie and Vietnamese Deputy Minister of Education and Training Nguyen Van Phuc on October 22 launched the second phase of Australia's Aus4Skills human resource development program worth AUD$50.1 million.
Implemented from 2021 to 2025, the program will support Vietnam's socioeconomic development, respond to the country's demand for workforce skills and strengthen links between the Australian and Vietnamese people through education.
Aus4Skills will offer Australia Awards Scholarships for Vietnamese citizens to study at Australian universities in priority fields of study, deliver Australian alumni professional development activities and grants that support Vietnam's development, and implement higher education capacity-building activities for Vietnamese university leaders.
According to Mudie, Australia's Aus4Skills program is highly relevant to supporting Vietnam's future human resource development priorities, especially as it navigates the challenges presented by the Covid-19 pandemic.
"Over the decades, education has created many enduring partnerships between Vietnamese and Australian people and organizations. Through these partnerships, Australians and Vietnamese have contributed to Vietnam's continued socioeconomic development across a wide range of priority sectors, such as governance and economic growth, infrastructure and transport, water and sanitation, education, gender equality and agriculture and rural development," she said.
Deputy Minister Nguyen Van Phuc said, "Vietnam and Australia continue to be strategic partners in education and training, which is essential to our human resource development and economic goals. We are thankful for Australia's continued support for Vietnam's education priorities and sustainable socioeconomic growth."
Project on marine aquaculture development till 2030 approved
Deputy Prime Minister Le Van Thanh has recently signed Decision No.1664/QD-TTg approving a project on marine aquaculture development till 2030 with a vision to 2045.
The overall goal of the project is developing a synchronous, safe, effective, sustainable and eco-friendly marine aquaculture, producing branded products to meet domestic and foreign demand, generating jobs and improving income of residential community in coastal areas, contributing to protecting the security of the country's seas and islands.
By 2025, the project targets having 280,000ha for aquaculture, achieving an output of 850,000 tonnes and export revenue of 800 million – 1 billion USD.
By 2045, sea farming will become an important part of the fishery sector with modern management, contributing to over 25 percent of the total output and earning more than 4 billion USD in export turnover.
To such end, a synchronous infrastructure will be developed to serve the industry. Specifically, a fleet of logistics vessels and offshore marine farming areas will be set up in key provinces.
As for inshore sea farming, priority will be given to competitive consumption markets and growing various species in combination with resources protection and management in coastal areas.
For cities and provinces from Quang Ninh to Ninh Binh, the Hai Phong – Quang Ninh area will be built into a sea aquaculture centre with concentrated mollusca breeding areas, thus meeting domestic and regional demand.
The cities and provinces from Thanh Hoa and Binh Thuan will develop sea aquaculture in tandem with seafood processing, logistics services, building and operating a mobile model for effective and sustainable exploitation and management of lobster breeding.
The cities and provinces from Ba Ria – Vung Tau to Kien Giang will harmoniously combine sea farming with services, marine ecological tourism, wind power and processing industry.
Under the draft project, offshore marine farming areas will be established in key cities and provinces such as Quang Ninh, Hai Phong, Quang Ngai, Phu Yen, Khanh Hoa, Ninh Thuan, Binh Thuan, Ba Ria – Vung Tau, Ca Mau and Kien Giang and several others with favourable natural conditions./.
Healthcare tourism: untapped potential in Vietnam
Medical tourism has emerged as a major trend around the world as the COVID-19 pandemic and environmental pollution have caused people to pay more attention to their health. Particularly, experts said the post-COVID-19 era would be a booming period for all types of healthcare services.
This new kind of tourism has not been effectively exploited in Vietnam, despite the big number of destinations with potential for wellness tourism.
Wellness tourism has become popular in some countries including the US, India, Japan, the Republic of Korea, Singapore, China, Thailand and Indonesia.
"It is forecasted that the global wellness tourism market will post a revenue of 919 billion USD in 2022," tourism expert Nguyen Van Luu said.
Currently, this type of tourism is growing rapidly from North America to Europe and Asia-Pacific and will expand faster in the coming years, he added.
It is worth mentioning that over the past five years, Asia has led in both the number of visitors and revenue from healthcare tourism.
Deputy Director of the Tourism Market Department, Vu Nam cited Yufuin, a rural village in Oita Prefecture of Japan as an example in exploiting local resources for health tourism.
With a natural area of about 1,800 hectares and a population of about 10,000 people, the village welcomed nearly 4.5 million visitors in 2019.
It is estimated that more than 12,000 visitors arrived at Yufuin per day on average, more than the population of the village. The income from tourism in 2019 of local people reached more than 16 billion JPY, equivalent to nearly 15 million USD.
"Yufuin can be said to be one of the most typical tourist destinations in exploiting hot mineral resources for the development of healthcare tourism not only in Japan but also around the world," Nam said.
Commenting on this tourism trend, which has developed in the world but is still untapped in Vietnam, deputy head of the Vietnam National Administration of Tourism Nguyen Thi Thanh Huong said there will be a shift in the tourism trend in the future, especially long-term trips will no longer be mere sightseeing trips. It will be a combination of relaxation and the use of services to strengthen physical and mental health.
Huong said the main reason for wellness tourism to be ignored in Vietnam is a lack of comprehensive research on its potential as well as no specific orientations and policies for the development of this type of tourism.
Over recent years, many hot mineral springs have opened for tourists such as Quang Hanh (Quang Ninh province), My Lam (Tuyen Quang province) and Thanh Thuy (Phu Tho province) which offer Japanese-style healthcare tourism services with hot spring baths.
Before the COVID-19 pandemic erupted, about 350,000 foreigners came to Vietnam in 2018 for to have medical examinations and treatments, generating a turnover of 2 billion USD. Meanwhile, every year, about 40,000 Vietnamese people travel abroad for healthcare services in combination with tourism and spend billions of dollars. It showed that not only international visitors but also domestic travelers are potential customers of this type of tourism.
To meet the demand of tourists, some travel agencies have developed a wide range of tourist products associated with maintaining and promoting people's health such as yoga on beach and massage therapy, offering a fresh experience for visitors.
Director of Thua Thien Hue Department of Tourism, Tran Huu Thuy Giang, said that this locality will study and soon issue policies and product orientations for tourism businesses to develop and put into operation healthcare tours.
"It is necessary to define this type of tourism a key type in the planning and development strategy of Vietnam's tourism. The government needs to have policies and plans for the development of this type of tourism in order to improve the health of the Vietnamese community and attract foreigners and increase revenue for the state budget," said Professor Nguyen Van Dinh, a tourism expert./.
Steel producers report strong growth in profits despite COVID-19
Despite disruptions caused by the fourth wave of the COVID-19 pandemic, steel producers still reported extraordinary profits.
In its third-quarter financial report, Hoa Phat Group (HPG) posted a rise of 56 percent year-on-year in revenue to 38.9 trillion VND (1.7 billion USD), resulting in record profit after tax of 10.35 trillion VND, 2.7 times higher compared to last year.
As of September 30, the leading steel producer recorded revenue of over 105.8 trillion VND, up more than 60 percent. Its profit after tax jumped 200 percent over last year to 27.1 trillion VND, which exceeded 45 percent of the year's plan.
In the past nine months, Hoa Phat produced 6.1 million tonnes of crude steel, up 50 percent over the same period last year. Sales of steel products reached 6.3 million tonnes during the period, up 43 percent. Of which, construction steel sales rose 12 percent to 2.8 million tonnes, while hot rolled coil (HRC) sales reached nearly 2 million tonnes.
Tien Len Steel Group (TLH) also reported outstanding performance last quarter.
Even though the company's consolidated net revenue increased 1.5 percent year-on-year to nearly 909.4 billion VND, its profit after tax surged more than 8.3 times to 105.5 billion VND.
Tien Len Steel Group said that the rise in revenue was driven by higher steel prices, while low inventories resulted in a sharp drop in the cost of goods sold. During the period, the company also minimised a number of expenses, leading to a sharp gain in net profit.
In the first nine months of 2021, its revenue climbed 15 percent to 3.28 trillion VND, with net profit up to 422.3 billion VND from just nearly 997 million VND in the same period last year. With the result, the company exceeded its whole year target.
This year, Tien Len Steel Group set a target of 250 billion VND in profit after tax.
Similarly, Thai Nguyen Iron and Steel (TIS) and Me Lin Steel (MEL) witnessed strong growth in business results.
Thai Nguyen Iron and Steel said in its third-quarter report that the company's net revenue jumped 46.5 percent over last year to nearly 3.1 trillion VND, with net profit reaching nearly 10 billion VND, 25 times higher than that of last year.
During the period, its profit from financial activities rose strongly, while interest expenses declined.
In the first nine months, it posted an increase of 37.5 percent year-on-year to over 9.6 trillion VND. Given the sharp fall in expenses and higher steel prices, its profit after tax rose 7 times over last year's to 113 billion VND.
Meanwhile, Me Lin Steel recorded a loss of 18.7 percent in net revenue to 196 billion VND. But thanks to a significant cut in expenses, with financial expenses and general and administrative expenses both down more than half, its profit after tax was still 10.6 times higher than the same period last year to over 18.7 billion VND.
According to Me Lin Steel, in the third quarter, domestic steel prices rose sharply compared to the same period of 2020, while the company's inventories were still relatively low, so profits surged. At the same time, the company also maximised production and business expenses like sales and interest expenses, and increased efficiency.
Le Xuan, a senior trader, said that steel enterprises were likely to benefit as China was tightening its annual steel production output.
"Environmental problems and limited energy consumption are forcing Chinese enterprises to reduce output, causing a fall in the global steel supply, as China is the world's largest steel exporter," Xuan said.
"It will support our steel producers."
On the stock market, HPG and TLH are listed on the Ho Chi Minh Stock Exchange (HoSE), while MEL is traded on the Hanoi Stock Exchange (HNX) and TIS is on UPCOM.
These stocks have gained strongly since the beginning of the year with HPG shares and TIS shares up 34 percent and 53.2 percent, respectively. TLH shares even jumped more than 197.3 percent, while MEL shares rose nearly 130 percent.
"Steel stocks may still have room to increase thanks to the expectation of profit growth and public investment is expected to increase sharply post-pandemic," said Xuan.
She added that the restart of real estate projects also increased demand for steel products./.
HCM City food providers bounce back from COVID-19, ensure food supply
Food manufacturers and distributors in HCM City are focusing on resuming production and ensuring stable food supply after a long period of strict COVID-19 preventive measures hindering their operations.
According to the HCM City Food and Foodstuff Association, its business members have been keeping prices stable, following the city's instruction.
They are also working closely with local authorities to ensure safety at the workplace.
Most of the key businesses in the association were able to resume production almost immediately after the city's reopening in early October.
Manufacturers of instant noodle products can now reach up to 80 per cent of their usual capacity, while certain farm produce processing facilities are able to reach full capacity.
Distribution businesses in the city are also preparing to supply the market with essential goods for the remaining months of the year.
Saigon Co.op, for example, is working with its suppliers to stock up on rice, frozen foodstuff and other food products, and is buying large quantities of fresh vegetables from co-operative groups in southern provinces.
It said it would ensure sufficient supply of foodstuff for the next six months.
However, many businesses are still facing problems such as lack of manpower and difficulties buying ingredients due to rules related to custom procedures and transportation amid the ongoing pandemic.
They are asking permission to extend their staff's working hours to meet delivery demands.
Ly Kim Chi, chairman of the association, said that businesses would like the city to issue more long-term policies and guidelines to help businesses adapt to the city's new normal and be more proactive, such as instructions in dealing with positive COVID-19 cases among staff.
Wide-scale lockdowns and needless testing should not be enforced, she said.
Businesses are also asking for financial assistance such as tax and land rent reduction, as well as more favourable prices for testing kits.
This month, many businesses in HCM City have resumed operation but they have had to adhere to the city's strict COVID-19 safety regulations, such as frequent staff testing and ensuring social distancing and staff vaccinations.
Vietnamese, Scotland firms jointly develop rooftop solar power
The Hoa Binh Construction Group (HBC) and Scotland's Shire Oak International (SOI) have struck a strategic deal to develop rooftop solar power.
Accordingly, both sides will build rooftop solar power systems on industrial buildings or invest in existing ones. HBC will be an engineering, procurement and construction (EPC) contractor in their joint projects.
They will also pour capital in inshore and offshore wind power farms as well as wind power distribution systems.
Founded in Scotland in 2002, SOI has been present in Vietnam since 2009 with rooftop solar power projects.
On July 5, 2019, the Vietnamese Ministry of Industry and Trade issued the Decision No.2023/QD-BCT approving the rooftop solar power development programme for the 2019-2025 period, targeting the installation of 100,000 rooftop solar power systems, or 1,000 MWp by the late 2025./.
Source: VNA/VNS/VOV/VIR/SGT/SGGP/Nhan Dan
| | | | | | | | | | | | | | | | | | | | | | | | | | | | | | |
| --- | --- | --- | --- | --- | --- | --- | --- | --- | --- | --- | --- | --- | --- | --- | --- | --- | --- | --- | --- | --- | --- | --- | --- | --- | --- | --- | --- | --- | --- |
| 60 Minutes - Rex (October 23, 2005) check it now at Amazon | Charlie Rose - Paul Krugman / David Smick(October 23, 2008)4.0★ / check it now at Amazon | Charlie Rose with Kati Marton; Jane Fonda and Gloria Steinem; Kiran Desai (October 23, 2006)$17.99 | Charlie Rose with Danny Glover; Pete Hamill (October 23, 1998)$50.23 | Mozart: Le Nozze di Figaro (Tokyo, October 23, 1963) check it now at Amazon | October 23 2002 Eureka Ca: On the Road$49.99 | DailyFinance – Stocks & Business News check it now at Amazon | Pewter Libra The Scales Zodiac (September 24 - October 23) Astrology Pendant on Leather Necklace check it now at Amazon | Libra Baby Wand Pendant SEPTEMBER 23 - OCTOBER 23 check it now at Amazon | HARVARD BUSINESS REVIEW OCTOBER 2013 [Single Issue] Magazine check it now at Amazon | 92Y - Anthony Bourdain and Eric Ripert (October 23, 2006) check it now at Amazon | Emma Stone - October 23, 2010 (Edited Episode) check it now at Amazon | Weekend Update Thursday ? October 23, 2008 check it now at Amazon | More Than Coffee: The Secrets of Starbucks Success (Best Business Books) (Volume 23)$5.99 | They Marched Into Sunlight: War and Peace Vietnam and America October 1967$10 | The Attack on U.s. Marines in Lebanon on October 23, 1983 (Terrorist Attacks)3.0★ / $6.95 | Entertainment Weekly October 23 2009 The New Michael Jackson Movie (#1072)$18.99 | Libra: The Sign of the Scales, September 24-October 23 (The Little Birth Sign Library)$5 | Investor's Business Daily and the Making of Millionaires: How IBD Rewrote the Rules of Investing and Business News$54.65 | Time Magazine October 23, 1944 (Dewey) check it now at Amazon | Vietnam Business And People: Understanding Cultural Differences$24.87 | LIFE Magazine: October 23, 1970 check it now at Amazon | Sidney Crosby-Pittsburgh Penguins & Ben Roethlisberger-Pittsburgh Steelers, Sporting News, October 12, 2009 issue. check it now at Amazon | Michael Jackson, This Is It Tour Movie-First Look, Entertainment Weekly, October 23, 2009 issue.$12.75 | They Marched Into Sunlight -- War and Peace Vietnam and America October 1967 check it now at Amazon | They Marched Into Sunlight : War and Peace Vietnam and America October 1967$13 | That Day in Budapest-October 23, 1956 check it now at Amazon | Libra: September 24-October 23 : Your Sun-And-Moon Guide to Love and Life$5.95 | Vietnam: Business Opportunities and Risks$8.99 | More Than Coffee: The Secrets of Starbucks' Success (Best Business Books Book 23)$2.99 |
VIETNAM BUSINESS NEWS OCTOBER 23 have 6636 words, post on vietnamnet.vn at October 23, 2021. This is cached page on USA Posts. If you want remove this page, please contact us.