On February 22, 2015 I published an article also titled "Don't Over Think It, Buy Johnson & Johnson." This piece was focused on a purchase that I had recently made and the mindset behind that trade. I was basically saying that when Johnson and Johnson (NYSE:JNJ) trades at a fair valuation, investors shouldn't be overly concerned about the company's future but instead, simply buy shares and tuck them away (collecting and re-investing the dividends), putting trust in the very high-quality management that JNJ offers and the pristine balance sheet at its disposal. Well, since I recently added to my JNJ position, I decided to pen another article focused on the company. The title of this piece is the same because the general premise of my first JNJ focus ticker piece will be echoed once again here. Sometimes, I think it's best to remember the old saying, "If it ain't broke, don't fix it." Or, in other words, "Don't over think it, buy Johnson & Johnson."
A Fond Look Backwards
Johnson and Johnson has been generating massive alpha for investors for decades. Many view this company as a boring bond equivalent, but to those people, I say, "malarkey." I believe JNJ is much, much more than that. According to Google Finance, looking back 30 years we see that JNJ shares have increased in value 7515.80% compared to the 2281.90% and 2282.17% that the S&P 500 and Dow Jones Industrial averages have returned over the same period of time respectively. This massive outperformance doesn't even take into consideration dividends or dividend re-investments, which would have undoubtedly increased the alpha generated dramatically.

Looking back a shorter distance, let's say 10 years, to early 2007, or basically the peak before the great recession hit in early 2008, we see that JNJ once again generated alpha relative to the S&P 500. Using F.A.S.T. Graphs allows us to see JNJ's performance with and without dividend re-investment factored in. Without re-investing any dividends, JNJ still outperformed the SPY during this recent 10-year period, generating a 7.4% annualized rate of return versus a 6.1% annualized rate of return from the S&P 500. Heck, even without dividends factored in at all, JNJ still generated higher returns for shareholders, 5.5% annualized ROR vs 5.0% from the S&P 500.
Looking at these ROR figures may not be the best way to think about it, or at least, it may not quite do this company justice in the retail investor's mind. Let's talk about it in dollar terms. Say an investor decided to invest $1,000.00 in JNJ back on Jan. 31st, 2007; today their shares and the dividends collected over the last decade would be worth $2,052.68. If that investor would have put the same $1,000.00 into the SPY instead, it would have grown to $1,827.04. Either way you're looking at a solid investment, but I'll take the extra $225.64, an extra 12.35%, any day.
What's more, if that investor would have re-invested those dividends back into the company rather than simply collecting them and stashing them away, that original thousand dollars grows even higher, to $2,299.54, or an extra 12.06% above the non-re-invested figure. An investment in the S&P 500 with dividends re-invested over the last 10 years increases as a higher rate than the collect and stash method as well, but not nearly as quickly as the JNJ investment did. The original $1,000.00 would now be worth $1,974.53 if it were put into the SPY and re-invested. We see that the difference between the two investments widens when dividends are re-invested, to 16.4%.
And lastly, we come to the most pertinent JNJ/SPY comparison to this piece, the two-year relative performance that represents the time elapsed since the first "Don't Over Think It, Buy Johnson and Johnson" piece I wrote was published. Over that period of time, JNJ wins again, increasing in value 11.44% versus 8.73% for the S&P 500 and 10.50% for the DJIA. Once again, this figure does not include dividends, collected or re-invested, meaning that JNJ actually generated greater alpha than the Google Finance graph insinuates.

I know some of you out there are rolling your eyes, thinking to yourselves, "That's all well and good, but the stock market isn't about the past, but instead, the future." And I would agree with you. However, I would also say that the future is unpredictable and therefore, I think conservative investors are best off partnering with proven, reliable, stable businesses like JNJ when they invest their hard-earned dollars. Sure, I highly doubt that JNJ will return another 7500% over the next 30 years, but in the grand scheme of things, I feel much more comfortable partnering with this company as an investor than just about any other.
A Wonderful Company at a Fair Price Buys Another
Obviously, I'm a Johnson & Johnson bull. I'm long the company and plan to stay that way for a very, very long time. However, even with that said, I haven't been buying the company consistently over the past four or so years that I've been managing my portfolio. Just like any other company, I've looked for fair or better valuation when it comes to buying shares. Two years ago when I wrote the original "Don't Over Think It, Buy Johnson & Johnson" article, shares were trading at 17x earnings. I've made three outright purchases over the last four years, at $92.73 in December of 2013, at $100.02 in February of 2015, and just a few days ago, at $111.81. All three of these purchases came during dips when shares traded down to this 17x multiple or below. This is where I believe fair value lies for this blue chip company, and as you can see if the F.A.S.T. Graph below, JNJ hasn't spent a lot of time below that level over the last three years.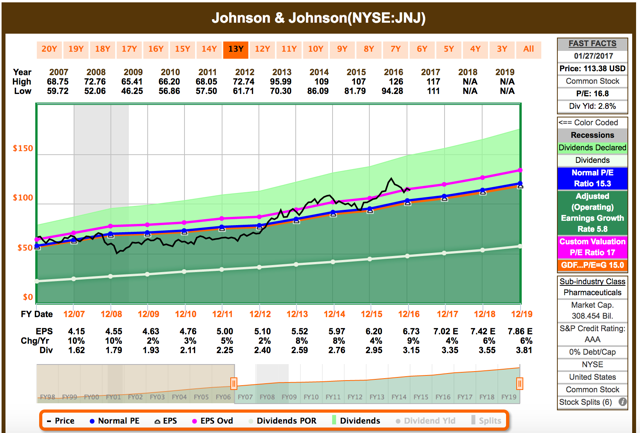 JNJ is expected to earn $7.03/share in 2017 (this is the average analyst estimate). The company just released 2017 guidance in its Q4 report and targets a $6.93-7.08 range for 2017 (3-5% EPS growth). The company guided for low-single-digit revenue growth in 2017 as well. Using this $7.03 estimate we arrive at a 15.9x forward P/E multiple based upon the current shares price of $112.
I think this multiple is rather fair based upon the company's short-term growth prospects, but I admit, it doesn't represent a screaming value. However, I'll steal some words from Warren Buffett here and say that "it's far better to buy a wonderful company at a fair price than a fair company at a wonderful price."
Without a doubt, JNJ is a wonderful company, with three diverse and productive business segments and a balance sheet that has earned the company a AAA credit rating. (JNJ is one of two companies in the U.S. with a AAA rating; the other is Microsoft (NASDAQ:MSFT).)
The day after I made my recent JNJ purchase, it was announced that JNJ had reached a deal to acquire Actelion, Europe's biggest biotech company, for $30b. Speaking of JNJ's AAA credit, when reading up on the transaction and Actelion's operations, I came across rumors that this deal could affect this pristine rating negatively. $30b is a lot of cash leaving the balance sheet. However, Microsoft's recent splurge on LinkedIn didn't result in a downgrade of its credit rating, so JNJ could be in the clear.
Either way, I didn't invest in JNJ simply because of its credit rating, but rather the strength of its business and proven generosity towards shareholders. AAA or not, I'm sure that JNJ did its due diligence on Actelion. Actelion is a blue chip biotech company itself, offering best in class assets and a strong pipeline. Here is a link to a slide show provided by JNJ regarding the purchase. A picture is worth a thousand words, and if you're interested in information on the deal, you'd likely be better off hearing the words from the horse's mouth rather than reading my take on it.
I will highlight this bit, which put my mind at ease with regard to the $30b expenditure: Management believes the deal will be immediately accretive to its bottom line and should result in increasing the top line's growth acceleration by 1% over the long-term.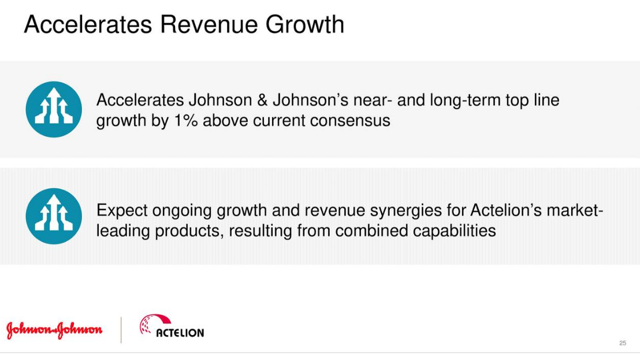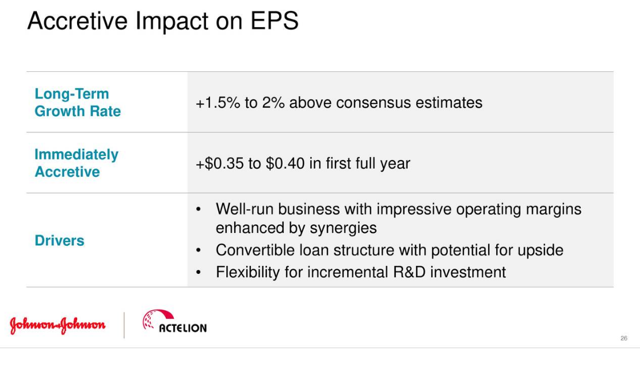 Source: JNJ/Actelion slide show, slides 25 and 26
As a shareholder, I look forward to the operational synergies and top/bottom line accretion that this deal generates. I'm happy to see JNJ add to its world class product portfolio, becoming a leader in the PAH space, while bolstering its pipeline in the process. Some will say that JNJ overpaid for Actelion, but quality comes with a price and I'd happy to see JNJ pick up proven assets rather than speculative, early-mid stage drug prospects. I'm happy to see a company that I own putting its cash to use with a long-term mindset, and I believe that's exactly what JNJ did here.
The Dividend
Johnson & Johnson is famous for its dividend and dividend growth. JNJ has paid an annually increasing dividend for 54 consecutive years. The company's current dividend yield is 2.82%. JNJ's five-year dividend growth rate is 6.93%. The company's most recent dividend increase was 6.67%. Investors should expect a dividend increase announcement in the coming months. February's payment will be the fourth quarterly payment at $0.80/share, and JNJ typically increases its May payment. If the company gives investors another $0.05 increase (like they did in 2016) to $0.85/share, the forward dividend yield will be 3% at today's $113 share price. I had considered waiting for further weakness to the $106 range where the current dividend would represent a 3% yield, but I ultimately decided it would be greedy and I am best off buying fair prices when I see them. If the stock sells off to $100 or so, I'll buy another lot of shares. Based off of today's forward dividend ($3.20) and management's recent 2017 EPS guidance ($7.03), JNJ sports a 45% payout ratio at the moment. This leads me to believe that management can give investors a 5-7% dividend increase even while earnings are only expected to increase 3-5% on the year.
Risks In The Court Room
Everything up to this point has been the good news with regard to JNJ, but like just about every company in the world, this one has its issues too. Like the rest of the healthcare sector right now, JNJ faces several potentially harmful headwinds, especially with regard to drug pricing and potential (over) regulation of the space. These pricing issues have been thrown around for more than a year now, so I'm sure that investors considering an investment in this sector are well aware of this risk. I've been willing to pursue healthcare companies in the face of this pricing pressure because I believe that the issue is being over blown and that over the long-term healthcare innovation will win out over the threats of politicians (who surely don't want to destroy one of the best industries that America has going for it on the global stage: biotech research and development).
But no, it isn't regulation that worries me most when it comes to JNJ; it's potential litigation. You see, JNJ currently faces numerous lawsuits, several of which frighten me so much as an investor that I haven't allowed JNJ be become overweight/a core position within my DGI portfolio.
A St. Louis court has recently awarded more than more than $200m combined to three different plaintiffs suing over the talcum/ovarian cancer issue. Money like this will obviously attract attention, and now the company has a large legal battle(s) on its hands. It's worth nothing that a court in New Jersey threw out two similar cases, so this doesn't seem to be a clear-cut issue. With rulings against JNJ averaging over $50m/plaintiff, the numbers going against this company can become very large, very fast, if a precedent is set.
Now, I'm not a lawyer, and I don't know the science well enough to have a worth while opinion on whether or not JNJ was/is in the wrong for its use of talcum powder in diapers and cosmetic products. My understanding of the legal issues is rudimentary at best, though I'd be lying if I said I wasn't concerned. I'm sure that JNJ as a sizeable legal team that is hard at work on this issue as well as several others that the company faces. When I'm reading about JNJ I don't see a lot of attention being paid towards these potential issues. JNJ is a market darling, especially amongst income oriented investors, though I think anyone investing in these shares should at least consider the potential implications of these law suits on this company's balance sheet moving forward. Maybe this fear is completely unwarranted on my part, the company will win its appeals against the St. Louis rulings, and this problem will disappear. Time will tell. However, until it does, I'm simply not willing to dedicate more than a normal full position, which typically represents 1.5-2% of my overall portfolio, towards this company.
Conclusion
Now that we've gotten through the no-fun litigation talk, it's back to my bullishness regarding JNJ. With this recent purchase JNJ's weighting within my portfolio climbs to 1.61%. I'd be happy to increase this weighting to the 2% range or so with another purchase should the stock continue to sell off. Litigation aside, I'm pleased with JNJ's performance posted in its recent earnings report; revenues were up slightly, income was up nicely, and with the exception of Remicade, whose sales were down 3.3%, the company's major drugs posted solid growth. All three of the major business segments grew revenues, led by consumer products (a business that some have called to be spun off; I hope a quarter like this shows the importance of having a well diversified product portfolio). And as previously stated, guidance was for slow and steady growth as well, just what I expect out of this investment.
After this purchase and another addition to my Bristol-Myers Squibb (NYSE:BMY), my healthcare sector weighting is 17.2%. This is still my third highest sector weighting behind consumer cyclical (27.3%) and technology (17.6%), though it's nipping at technology's heals. I'm interested in several other healthcare names in the present as well, but I'm hesitant to invest quickly in this space due to headline risks and potential macro headwinds. I plan on capping my overall healthcare sector exposure at 20% or so for diversification purposes. But, with that said, it's hard for me to pass up value when I see it (especially if it adds reliably increasing income to my portfolio), regardless of which sector it's coming from. I'll continue to keep all followers up to date on my trades via real time stock talk updates here on SA.
I hope you all enjoyed the piece. Best wishes!
Disclosure: I am/we are long JNJ, BMY, MSFT.
I wrote this article myself, and it expresses my own opinions. I am not receiving compensation for it (other than from Seeking Alpha). I have no business relationship with any company whose stock is mentioned in this article.
| | | | | | | | | | | | | | | | | | | | | | | | | | | | | | |
| --- | --- | --- | --- | --- | --- | --- | --- | --- | --- | --- | --- | --- | --- | --- | --- | --- | --- | --- | --- | --- | --- | --- | --- | --- | --- | --- | --- | --- | --- |
| 3dRose LLC 8 x 8 x 0.25 Inches Mouse Pad, Big Bang Theory Don'T You Think If I Was Wrong I'D Know It Sheldon Quote (mp_107309_1)1.0★ / check it now at Amazon | Don't You Think It's Time$45.99 | Don't cry because it's over. Smile because it happened. --Dr. Seuss. LoveDecal, Wall Sticker, Vinyl, Decal, Quote, Black check it now at Amazon | Don't Cry Because It's Over, Smile Because It Happened Decorative Vinyl Wall Quote$28.99 | Don't Cry Because It's Over. Hand Carved Etched Glass Paperweight$29.95 | Dr. Seuss Don't Cry Because It's Over Vinyl Wall Art Decal check it now at Amazon | Don't Even Think About It check it now at Amazon | Don't Even Think About It: Why Our Brains Are Wired to Ignore Climate Change4.5★ / $27 | Don't You Think If I Were Wrong I'd Know It Men's Hoodie Sweatshirt check it now at Amazon | Don't Cry Until It's Over check it now at Amazon | If I Could Just Snap Out Of It, Don't You Think I Would?: A Nine-Month Plan For Smashing Your Depression check it now at Amazon | Don't Even Think About It: Memories and Confessions of a Former Military and Texas Lawman, Private Investigator and Body Guard check it now at Amazon | Don't Even Think About It (Journals) check it now at Amazon | Don't Even Think About It: Book 1 check it now at Amazon | Are You Over Fifty? Don't Worry about it! Live Your Life with Joy! check it now at Amazon | NICOLE BY O.P.I NAIL LACQUER #415 DON'T OVER PINK IT by nicole check it now at Amazon | Dr. Seuss Don't Cry Because it's over smile because it happened wall quote check it now at Amazon | Dr. Seuss - "Don't Cry Because It's Over, Smile Bec - wall art quote nursery baby saying check it now at Amazon | Don't Cry Because It's Over Smile Because It Happened - Bumper Stickers (Medium 10x2.8 in.) check it now at Amazon | Don't Cry Because It's Over Smile Because It Happened - Refrigerator Magnets 7x2 in check it now at Amazon | Don't You Think If I Were Wrong I'd Know It Funny Men's T-Shirt check it now at Amazon | Don't You Think If I Were Wrong I'd Know It WOMENS T-shirt Tee check it now at Amazon | Don't You Think If I Were Wrong I'd Know It Men's V-Neck T-shirt Tee check it now at Amazon | Don't You Think If I Were Wrong I'd Know It Men's T-shirt Tee check it now at Amazon | Don't You Think If I Were Wrong I'd Know It GIRLS / JUNIORS T-shirt Tee check it now at Amazon | Men's Don't Even Think About It! "I'm HERS" Short Sleeve T-shirt check it now at Amazon | Men's/Unisex Zip-Up Hoodie Don't Even Think About It! "I'm HERS" check it now at Amazon | Womens Don't You Think If I Was Wrong I'd Know It? Sheldon T-Shirt check it now at Amazon | Youth Don't You Think If I Was Wrong I'd Know It? Sheldon T-Shirt check it now at Amazon | Womens Don't You Think If I Was Wrong I'd Know It? Sheldon Tri-Blend T-shirt check it now at Amazon |
Don't Over Think It, Buy Johnson & Johnson - Johnson & Johnson (NYSE:JNJ) have 3210 words, post on seekingalpha.com at January 30, 2017. This is cached page on USA Posts. If you want remove this page, please contact us.